We have found the winner of Ford Ranger Wildtrak 2023 from " Go Digital Win Car" Campaign!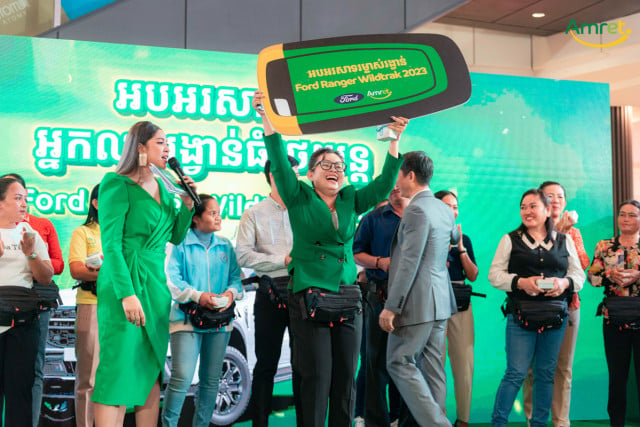 Phnom Penh -- Amret, a leading microfinance institution, has run a successful Grand Prize event to find the winner of Ford Ranger Wildtrak 2023 on 18th February 2023 at Aeon Mall Sen Sok to celebrate "Go Digital Win Car" campaign with grand prizes of 1 billion riel in total.
Go Digital Win Car is one of the biggest events Amret has ever had and lasted for 6 months from 1st July 2022 to 31st December 2022. Thousands of customers have participated and supported the campaign. Moreover, Amret has found 400 winners across the regions between 12th October 2022 and 12th January 2023 for iPhone 14 Pro Max, Giant Bike and 400,000 riel cash prize.


After carefully pre-select winners process through Amret's official Facebook Page, Amret found 16 pre-select winners from all regions across Cambodia. The 16 winners were invited to play Money Blowing Machine with 30s each. After that, they had to pick a number to pick the car key. If anyone chose the right key, then the car sound system will be alerted. Those who hadn't won the big prize received 1000 USD with a premium gift.






Congrats to the winner of Ford Ranger Wildtrak 2023 " KOL SOPHEAVY" from Kandal Region.




On that very special occasion, DOS DIN, CEO of Amret microfinance institution said: " This is the second time Amret had run Grand Prize. Last year we celebrated our 30th year anniversary with Ford Ranger Wildtrak 2022 and other prizes."


He also said that: " We had prepared this event to support and motivate our customers on using the digital platform as our campaign "Go Digital Win Car". Moreover, we want to convince our customers to use the Bakong system which is a new creation from NBC that provide convenience, and fast in transferring within Bakong member"



Furthermore, on 22th February 2023, Amret handed over Ford Ranger Wildtrak 2023 to the winner.






About Amret:



Amret is a leading microfinance institution and one of the top 10 financial institutions in Cambodia. A full subsidiary of the Advans Group, Amret has prestigious international shareholders and respected national and international reputations as a responsible and innovative institution. Throughout its evolution, Amret has stayed true to its mission - to provide underserved clients with financial services tailored to their needs.
More information about Amret's products, please visit: amret.com.kh


Related Articles