"We Want Success Now but We Want It in 10 Years' Time Also," Says Conor Nestor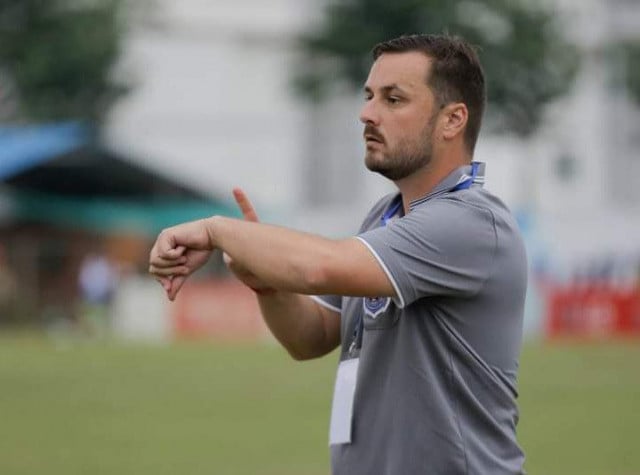 PHNOM PENH—Conor Nestor, head coach of Cambodia Premier League 1 (CPL1) Premier Division Preah Khan Reach Svay Rieng (PKR), says his more than five years in Cambodia Top Flight Football Management has proven useful for his ability to steer his side to the top of the League after six weeks and making him confident to go all the way in the quest to win the title. The Preah Khan Reach Svay Rieng is the only team in the CPL1 yet to lose a match as they recorded four straight wins before being held to a draw by Nagaworld FC in week 5. Cambodianess' Ken Gadaffi spoke to Conor Nestor about the invisibility of the PKR and their quest to add to their one trophy and four-second place finishes by winning the title this season.
Ken Gadaffi: You have remained indomitable so far this season except for the Nagaworld slip. Do you see your team remaining invisible throughout the season?
Conor Nestor: It's not something we really think about. We just prepare for the next game as well as we can each time and focus that way. Football guarantees highs and lows. It's important to remain balanced regardless of the results.
Ken Gadaffi: You are currently the league's most prolific side averaging 3 goals per game. However, you are only able to keep a clean sheet this season in the 4-0 spanking of Bouengket FC. Is your defending something that worries you?
Conor Nestor: I'm not worried about our defending. Of course, I'd rather have more clean sheets but there are other ways to evaluate defensive performance. Against Nagaworld, they had 1 shot on target. Against Tiger, 1 shot on target also. So, I believe there have been some games where we were unlucky to concede because we defended well.


Ken Gaddafi: Your foreign imports seem to be doing well. Are you satisfied with their impacts thus far? Marcus Haber and Emmanuel Mbarga no doubt would be regarded as good buys. What are your thoughts on the duo?
Conor Nestor: All our new signings have done well. Firstly, when Emmanuel (Mbarga) came mid-season last year, we didn't lose a game with him on the team. He deserves so much credit. Haber's experience speaks for itself. Mizuno coming back has been a great boost. Odawara has been a leader and, in the last game, O'Connell contributed well also. Not forgetting Phearath, our local signing who has been key in every game. The most pleasing aspect has been the blend between our new players, our young players, and our long-serving players.
Ken Gadaffi: That's great to know. Talking about the local players, I think most other teams also have some quality import players. However, would you say your local players have actually made the difference by combining well with the foreign imports? Something that seems to lack in many other top teams in the league.
Conor Nestor: Well, what's important about our club is last year we played 5 players under 22 in 10 games or more. This was to help bring up a new generation while our current generation is still helping us compete for trophies. Of course, only 1 trophy and 4-second place finishes are frustrating, but we have done that whilst building for the long term also. This is part of the balancing act of leading a football club. We want success now, but we want it in 10 years' time also. We are trying to get that balance right.
Ken Gadaffi: How long have you been coaching now in the Cambodia Top Flight? Do you see the experience you have gathered along the line as a crucial advantage over most of the other foreign coaches in the league?
Conor Nestor: This is my 5th season here. I think all coaches have strong points and weak points, and I'm no different. I've been very lucky to work for our owner and my bosses. They have allowed me to build a team of staff around me who are experts in coaching, sports science, sports medicine, set pieces, and analysis. Our owner is committed to making our club as modern and as professional as possible to give young Cambodians the opportunity to live out their dreams through football. All our hard work both players and staff is thanks to him and in honor of our supporters
Ken Gadaffi: You no doubt have a good scouting backroom staff going by the quality of players you have attracted to Svay Rieng over the years, especially from rival teams. How significant do you think it is for Cambodian clubs to take their recruitment policy given the influx of different players from different nationalities now in Cambodia?
Conor Nestor: Well firstly, if you look at successful teams all throughout the world, recruitment is a cornerstone of any successful team. We want to have the best young players in the country, we want to find the best local talent, and then for foreigners within the league, can we attract the best ones. After that, we have to always keep an eye on foreign markets for getting good value for import players. As a club, we work extremely hard 12 months of the year on this, not just during the transfer window. Our fans want players who will give everything for the name on the front of the jersey. I've been very fortunate to work with many young men over my time here who always do that.
Ken Gadaffi: Finally, with your five years in Cambodia, what would you like to say about the evolution that Cambodia football has experienced, especially the level of professionalism and facilities owned by most of the clubs.
Conor Nestor: I chose to stay here five years ago because I believe in the promise of Khmer football. Football is still developing here. Like all development, it's not always linear. You will have ups and downs and bumps along the way. The most important point for future progress is commitment, 100% commitment from all parties: owners, staff, players, referees, supporters, and sponsors. All football lovers must hold everyone accountable. Those who are not fully committed must get out of the way. Otherwise, progress will be stalled
Related Articles