Welcome to the Sandboxes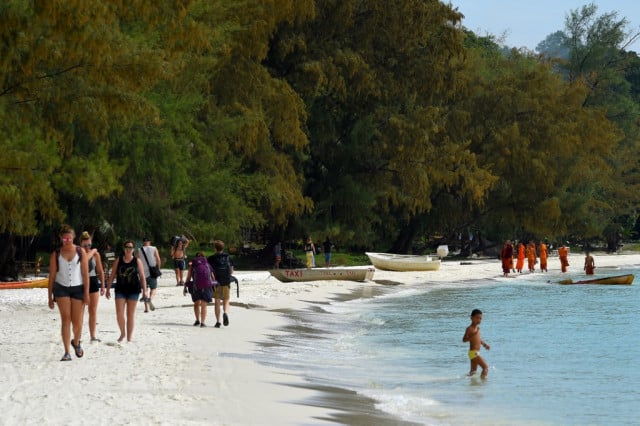 Following the example of neighboring countries, Cambodia will progressively reopen to tourism based on a technique known as "sandbox."

From Nov. 30 on, international tourists who have been vaccinated will be able to spend their vacations in Sihanoukville, Koh Rong Island off the coast of Sihanoukville and the Dara Sakor tourism zone in Koh Kong Province without having to go through quarantine.

They will have to go directly to these destinations and stay there. Stay on the beach like a child in a sandbox.

After devastating the tourism industry, the COVID-19 pandemic is enabling it back to life in its most basic form. There is no question of spirit of discovery, of strolls off the beaten path, of meeting the locals.

Sandbox tourism amounts to a caricature of mass tourism. Be quiet and sunbathe on the burning sand in front of the turquoise sea.

Being in or next to Sihanoukville, a refreshing alternative will be offered to visitors. To white sand, they may prefer casinos' green-topped tables. The advantage with these green-topped tables' tourists is that they will not disappear into thin air at the risk of spreading any virus.

That tourist puts himself in quarantine at the gaming table, whether or not there is a pandemic. Pretty much the ideal tourist in these times of galloping virus, isn't?

If this sandbox and green-topped table tourism works without reigniting the pandemic, Siem Reap Province should reopen to international visitors on the same basis: Welcome on the site of these wonderful Angkor temples, don't leave it, enjoy it and then have a nice trip home. After sandbox tourism, here is stone-box tourism.

This country's gradual reopening to international tourism is intended to be inspired by commendable precautionary principles. It is meant to be a balanced course between, on one hand, the control of health risks, and on the other, the revitalization of a sector that is key to the country's economy. We will have to see what the international tourist thinks about this.

Being duly vaccinated and coming to a country whose vaccination rate is reaching record levels, will he accept to be constrained that way? Maybe he will prefer destinations that will respect his aspirations to freedom, which are inherent to the spirit of travelling.

Anyhow, tourism professionals who had hoped that the pandemic would be an opportunity to look into new and more diversified tourism offerings will have to be patient. For the time being, the relaunch cocktail is sandbox and green-topped tables.
Related Articles