Well-known Cambodian Union Leader Rong Chhun Is Charged in Court over Comments about Border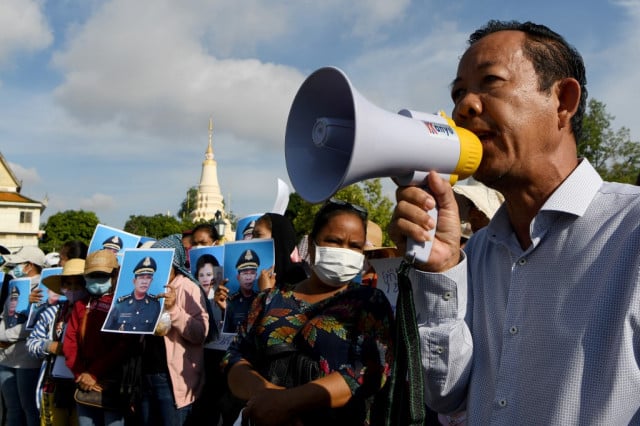 Sao Phal Niseiy
August 1, 2020 12:55 PM
He was arrested after claiming that Vietnam infringed on Cambodians' land along the border
PHNOM PENH--The prominent union leader Rong Chhun Saturday (Aug. 1) was charged with incitement by the Phnom Penh Municipal Court.
The municipal court formally charged Rong Chhun, a representative of the Cambodian Watchdog Council and the president of the Cambodian Confederation of Unions, with incitement to cause serious social unrest under Article 495 of the Cambodian penal code.
Speaking to reporters outside the courthouse, Chhun's lawyer Sam Sokong confirmed the charges and said that Chhun has been placed under temporary detention at Prey Sar Prison before his case can proceed to trial.
Several attempts to contact Kuch Kimlong, spokesperson for the municipal court, for more details were unsuccessful on Aug. 1.
According to article 495, Chhun may face up to two-year imprisonment if found guilty.
He was arrested just a few days after he had issued a statement, which alleged that irregularities during the negotiations between Cambodia and Vietnam over the territory along the border had caused Cambodians living along the border to lose land.
On July 20, Chhun had led a team to Tboung Khmum Province to inspect the land along the Cambodian Vietnamese border in Ponhea Krek District's Trapaing Phlong Commune where Cambodians claimed that portions of their land had been infringed upon between border posts 114 and 119.
Demand for His Release
On Saturday (Aug. 1), the Grassroots Democratic Party (GDP) issued a statement expressing concern over Chhun's arrest and asking for his release.
"The GDP expresses grave concern over the arrest of Rong Chhun on Friday night (July 31)," the party said in a statement on its Facebook page.
The GDP pointed out that the arrest of Chhun amounts to a restriction on freedom of expression, which prevents people from articulating their opinion on the country's border issues.
"The GDP requests that the authorities release Chhun and encourage citizens to express their opinions over border issues and contribute to protecting territorial integrity," the statement read.
Related Articles