Westerdam Passengers in Cambodia Are Screened for the Coronavirus So far, no one has tested positive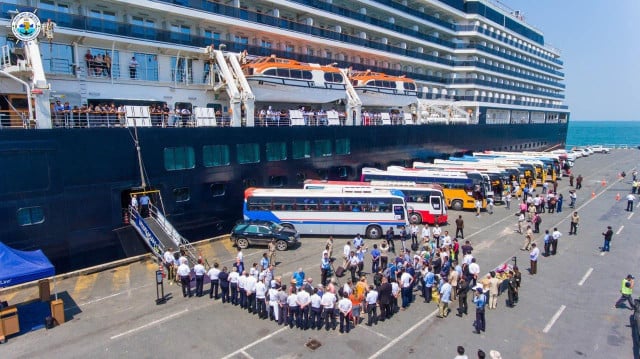 PHNOM PENH— The Ministry of Health is in the process of screening for the 2019 Novel Coronavirus (2019-nCoV) the former passengers of the Westerdam cruise ship who still are in the country.
"[A total of] 1,286 passengers have tested negative as of 9 am, Feb. 20," Ministry of Health spokesperson Or Vandin said in interview Thursday. "We are still waiting for more results."
When the Westerdam was allowed by the Cambodian government to dock in Sihanoukville on Feb. 13, no passenger showed sign of infection. According to a World Health Organization's (WHO) press release on Wednesday, the 18 persons on board the cruise ship who had reported "mild-flu like illness or gastro-intestinal symptoms" during the trip had all tested negative for the COVID-19 virus prior to disembarking.
However, one of the passengers later tested positive through temperature screening at the Kuala Lumpur International Airport: The 83-year-old American woman is reportedly in isolation in a healthcare facility in Kuala Lumpur.
The screening now being carried out in Cambodia is part of standard protocols and regulations conducted as passengers await flights to return home, and are not in response to that passenger, Vandin said, "[who] tested positive in Malaysia and not in Cambodia."
According to the WHO Press Release, the Ministry of Health is taking precautionary measures, which include screening all passengers from the cruise ship who are in Phnom Penh and Sihanoukville, laboratory tests for the passengers in Cambodia, and self-monitoring for symptoms by all passengers.
Related Articles