What does it take to become a journalist from scratch?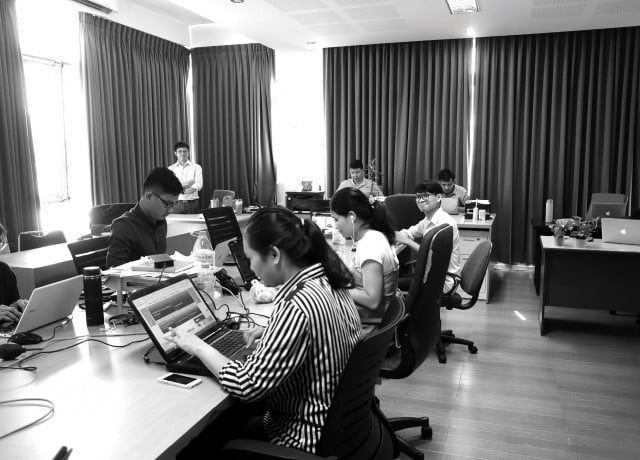 Im Mengseang
March 1, 2020 8:45 AM
PHNOM PENH--You may wonder who this guy is. Why did he dare to lecture on how to become a journalist? Actually, I don't have a degree in journalism or much experience in that field.
I'm a senior student majoring in international relations at the Royal University of Phnom Penh, one of the country's oldest universities. In this article, I am not trying to teach you how to become a journalist: I just would like to share with you the little experience I have acquired in that field.
I began my journalism "career" in late 2017. I recall that I had no idea what I was doing. Initially, I was tasked with the translation of stories, mostly international news. I was on the team of a pilot project called Kley Kley.
A few weeks after joining this team, I could hardly find stories to translate, and the final products of my writing were of very low quality. Due to the hardship I was enduring, I tried to quit no less than five times. However, I managed to survive the 3-month probation period but continued to be carefully monitored by my supervisors.
By my sixth month on the job, I saw a lot of improvements due to my commitment and willingness to improve along with the teaching and encouragement I was receiving.
Later on, I was informed that Thmey Thmey was looking for a reporter to join its international news team. Eager to learn new things and plunge into a new work environment, I decided to leave for Thmey Thmey.
-New Chapter of My Journey
"Do you consider yourself a journalist or just a translator?" This question was posed to me when I began my first day at Thmey Thmey. I admitted that, back then, I hesitated to say that I was a journalist.
Even though I had had some experience writing at my previous place, I faced many challenges including the writing standard that this institution had set. Considered one of the leading news platforms in the country, I sometimes felt pressured if I was unable to produce a quality piece of work.
However, nothing is not achievable if you do what you love and love what you are doing. While doing the job, I kept in mind that mistakes are inevitable. Instead of losing motivation when that happened, I tried to draw lessons from them to help push me forward.
"No one is perfect," as the saying goes. If you enthusiastically do the job while keeping on learning from your supervisors and other journalists, I can guarantee you will be happy with the outcome. Mentally, you won't "hate Monday" anymore because work will have become part of your life.
Furthermore, you cannot achieve great things without the involvement of other people, especially your family and people surrounding you. In fact, my story is not so different from others. Working in a comfortable workplace environment and having good supervisors play a vital role in my rapid growth in this job.
I have both mentors who trained me in basic skills (how to write good pieces) and soft skills (including how to behave and talk politely to sources or anyone a reporter deals with). In my dictionary, a good leader is described as a person who understands the real potential of his/her employees and helps them unleash their full potential through training in order to provide them with basic techniques and encouragement, building confidence and trust in the process. However, the longer you deny someone their potential, the more they're going to look for it elsewhere.
Last but not least, journalism is now profoundly part of my life. Despite the fact that I only have one semester left to complete my undergraduate studies, I have decided to pursue this career for the next three years, as I told my supervisors.

And then, I may consider leaving or remain on this path depending on how this will evolve. Still, pursuing a post-graduate degree abroad is part of my plans for the future. The only way to achieve this will be to get a scholarship. I may use my next years in this field to earn a scholarship based on merits.
Time will tell. But for now, I'm in journalism and truly glad to be.


Related Articles