Who Will Welcome Returning Tourists?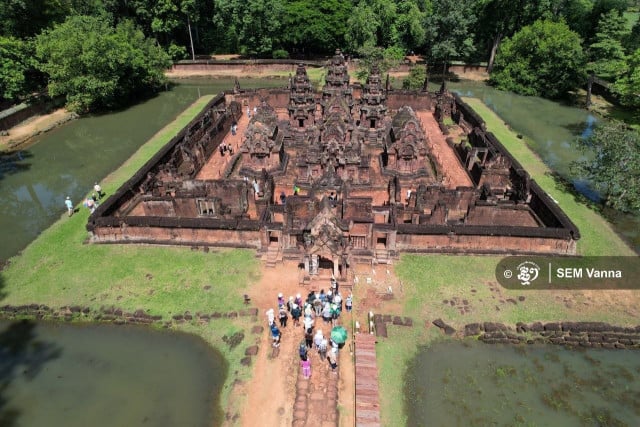 Before COVID-19, tourism played a momentous role in the growth of Cambodia's economy. For about a decade before 2020, the country experienced stable growth of around seven percent.
In 2019 alone, 6.6 million foreign tourists visited the country, 2.2 million of whom visited the Angkor Archaeological Park.
During the first eight months of 2022, only around 100,000 foreign tourists visited the park. When will these numbers recover to pre-pandemic levels? What seems to be the challenge after COVID-19 for Cambodia? Is it the lack of tourists or the lack of quality tourism services?
It is widely known that Cambodia's tourism sector, the backbone of the economy, was hit badly by the disease in 2020 and 2021. The ripple effect is projected not to fade away for another three to five years.
Siem Reap province, with its lifeblood depending almost entirely on tourism as well as a province most affected by the pandemic, is slowly regaining local and international tourists. The nation's economy seems to be more or less back on track though the disease has not disappeared completely.
One has to learn to live with COVID-19. This is a common commitment of the world to re-establish economic strength. Siem Reap is considered to be the first go-to destination of Cambodia's tourism sector.
How to attract tourists back is only one of many challenges. Tourism experts say another is limited qualified human resources after the pandemic.
To restore its tourism potential, the government has constructed and renovated much of Siem Reap province's infrastructure for this "Province of Temples" to receive the influx of tourists without many problems.
Hotels, guesthouses, resorts and parks are waiting. The government is also preparing new tourism products in Siem Reap such as culture, heritage, religion and beliefs. There will also be green-tourism, rural-tourism, agro-tourism, senior folk-tourism, sport-tourism and health-tourism.
Generally, for Cambodia and specifically for Siem Reap, preparation has been made both toward the tourism products and the city's infrastructure. However, what does it take to get things back to normal such as that of the pre-COVID-19 period?
The return of tourists is increasing gradually. However, to get the same number of foreign tourists as before, Cambodia will have to wait a bit longer. The reason is the ripple effect that still disrupts other places around the world. Families will tend to save money and travel locally as they wait and observe what comes next.
The Russia-Ukraine conflict is also hitting the damaged economy. Cambodia needs at least three to five years to return to normal.
During this period, standing still is not an option. New tourism products must be made and more media publicity should be enacted for Cambodia towards the outside world. More diverse tourism packages and more frequent direct flights to the country should be available.
What if the number of tourists grows at a desired pace from year to year in Cambodia and in Siem Reap yet the human resources cannot keep up with the demand? This is the question in which tourism experts are asking. This is due partly to the fact that many employees have left their jobs since COVID-19 spread.
Workforces in hospitality have abandoned their tourism career and gone to work elsewhere. Many tourism businesses face a shortage of manpower.
Now the real questions begin. Does Siem Reap have enough tour guides? Enough chefs? Enough hospitality providers and many other related entities? Does the number demonstrate a sufficiency to accommodate the arrival of tourists in the future?
In short, Cambodia faces a shortage of tourists while the availability of qualified manpower in the tourism sector is also a pressing and concerning question. This is what related entities should be aware of.


Originally written in Khmer for ThmeyThmey, this story was translated by Ky Chamna for Cambodianess.
Related Articles