Why and How to avoid contamination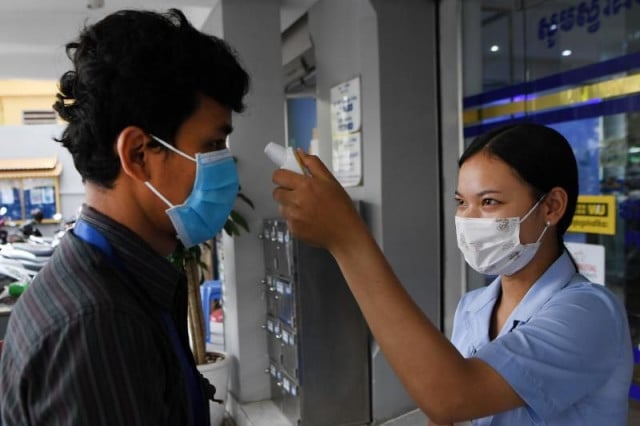 Jazmyn Himel
March 30, 2020 1:35 AM
Essential Measures to Protect Oneself Against COVID-19

PHNOM PENH—There has been a string of facts and fiction surrounding the pandemic, specifically regarding preventative measures. Here are some of the essential means to protect oneself according to the United Nations Development Program (UNDP) and the World Health Organization (WHO).
1. Hand sanitizer kills the virus
First, the "use of an alcohol-based sanitizer is an effective means to kill the virus on your hands," said Nick Beresford, UNDP representative in Cambodia, responding with his team to emailed questions. "It's equally important to sanitize your digital devices and objects around your home that you frequently touch. The virus may be transmitted if you come into contact with these devices or objects and then touch your eyes, nose or mouth."
2. Soap is the only thing that can kill the virus

"Regularly and thoroughly washing your hands with soap and water or using an alcohol-based hand sanitizer are both effective measures to kill the virus on your hands," Beresford said.
The disease is spread through droplets from the nose or mouth when an infected person coughs or breathes. The droplets can land on surfaces which can be transmitted to healthy people and infect them if they touch their eyes, nose or mouth, WHO explains on its website.
So, it is essential for a person to avoid touching his/her eyes, nose and mouth, and to wash his/her hands regularly: WHO recommends washing one's hands for at least 20 seconds.
3. Masks can protect from the disease

According to the UNDP and WHO, unless one is sick or taking care of a person suspected of having COVID-19, it is not necessary to wear a mask.

However, if a person is coughing or sneezing, he/she should wear a mask, Beresford said. This, in addition to frequent hand washing. "[H]and washing with soap and hand sanitizer is still the best way to prevent the disease."

Such measures are essential not only to protect oneself from COVID-19, but also to protect others as asymptomatic individuals may unknowingly spread the disease.

A recent study on China's COVID-19 outbreak described in Science Magazine on March 16 revealed that, the article read, "this high proportion of undocumented infections, many of whom were likely not severely symptomatic, appears to have facilitated the rapid spread of the virus throughout China." Which brings the next point.
4. The incubation period and social distancing

From the time a person contracts COVID-19 until he/she starts showing symptoms, this is called the incubation period, which could be anywhere from one to 14 days but is usually around five days, according to WHO.

This means that if you have recently travelled and/or show even mild symptoms such as a runny nose or headache, self-isolation will be necessary to prevent spreading the disease to others. Along with practicing proper hygiene and wearing a mask.

WHO also recommends that healthy people keep at least one meter away from a person who is sick in order to avoid having the virus transmitted through droplets.
5. When one should seek medical care

If a person has the following symptoms: fever, tiredness, dry cough, nasal congestion, runny nose, sore throat and diarrhea, the person should contact Cambodia's Coronavirus hotline at the number 115.
Stay safe.
Related Articles