Why Are There Burmese, Chinese and Japanese Texts on the Walls of Angkor Wat?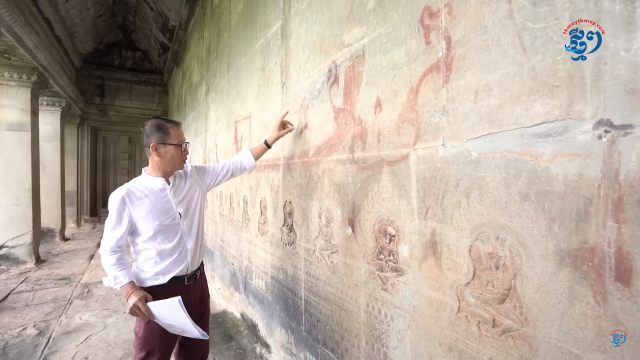 SIEM REAP — The Angkor Wat temple is virtually an archive containing countless messages written on its stone walls over the centuries, with some of them having been deciphered and others not. Beyond its colossal stature and outstanding artistry, this temple has more than one story to tell—worlds within worlds as people who had travelled from far away to see the temple wanted to leave a proof of their visit. Angkor Wat's vastness may be quite overwhelming when entering the temple, but this did not prevent them from wanting to be remembered as having been there.
The Angkorian era came to an end in the first part of the 15th century. During the next century, King Ang Chan I regained the site of the kingdom's former capital from the Siamese who had been occupying it. The king then made arrangements to care for the monuments. From that point on, Angkor, and especially the Angkor Wat temple, became a site that attracted Buddhist pilgrims and visitors not only from Cambodia but also from countries near and far, and even from Europe.
Some of them left messages at Angkor Wat. In addition to the numerous bas-reliefs and official inscriptions, one can see texts written and painted features on the walls of the temple in the area of the Bakan (central sanctuary) and the Preah Poan gallery.
Im Sokrithy, archaeologist and historian with the APSARA National Authority—the Cambodian government body that manages the Angkor Archeological Park—has used advanced digital technology to study these visitors' messages, which at times consist of texts written in Burmese, Chinese, Japanese as well as Thai.
As he explained during an interview, the "Preah Poan" gallery was given this name meaning "1,000 Buddhas" by people about 500 years ago. When Angkor Wat, which was built as a Hindu monument in the 12th century, was converted into a Buddhist temple, visitors from near and far came to Angkor Wat, leaving in the temple statues of the Buddha. Over time, this turned into thousands of statues; some have since been put into storage, others were left on site and a few were lost.
In a section of the gallery walls, a visitor mainly used black ink to draw horses, elephants, buffaloes as well as angels, Sokrithy said.
In another section, the text is in Chinese. At first, the experts were not sure whether this had been written by Chinese who lived in Cambodia or by Chinese who were visiting Cambodia, Sokrithy said. Many studies later, linguists concluded that the text had been written by Chinese people who had come from China during the 16th century. There also are poems written on the wall by Chinese people who lived during the Qing dynasty of the 17th century through the early 1910s.
If one keeps looking, one can also find on the walls information about ships that had sailed from Holland to Cambodia. There also are names of Cambodians who worked with the French linguist and explorer Étienne Aymonier and had come from Phnom Penh to Angkor Wat nearly 100 years ago to imprint a centuries-old inscription he meant to study, Sokrithy said.
A text in Japanese language based on the Chinese alphabet is known to have been written between 1621 and 1640s by Japanese tradesmen and pilgrims who meant to go to India, he said.
Texts in Burmese language can often be seen on different parts of the walls and columns. They were written by Burmese people who came to the province of Pailin—a region relatively close to Siem Reap province—on gemstone-mining business, Sokrithy explained. Burmese pilgrims also built a large gold-coloured stupa on a mountain in Pailin province called Phnom Yat.
There also are on the gallery walls many Khmer-language texts written in ink, Sokrithy said. Such texts cannot be classified as inscriptions since they were not carved into the stones, he said. Cambodians before as well as during the French protectorate (of 1863 through 1953) would write their names when they came to the Angkor Wat temple to hold religious ceremonies. One of the texts written around 200 years ago is easier than others to read as it is written in a Khmer similar to the language today, Sokrithy said.


Most people who left messages on these walls did not come to Angkor Wat as tourists or on holiday, he said. They would come on pilgrimage as they considered this temple a sacred place for worshipping and from which to return with religious souvenirs.
These texts were written by people of several nationalities over a long period of time after the fall of the Angkorian Empire in the 15th century. This is one more indication that this region of Cambodia was never fully abandoned or forgotten. It was, and still is, a place that people visit and revisit.
Today, one can no longer leave messages at Angkor Wat. After the Angkor Archaeological Park was inscribed on the UNESCO World Heritage list in 1992, writing or drawing on temples' walls was prohibited in order to protect the authenticity of these centuries-old monuments.
Originally recorded on video for ThmeyThmey25 News, this interview was translated by Ky Chamna for Cambodianess.
Related Articles