Why Not Try Siem Reap's Ceramics for Daily Use or Decoration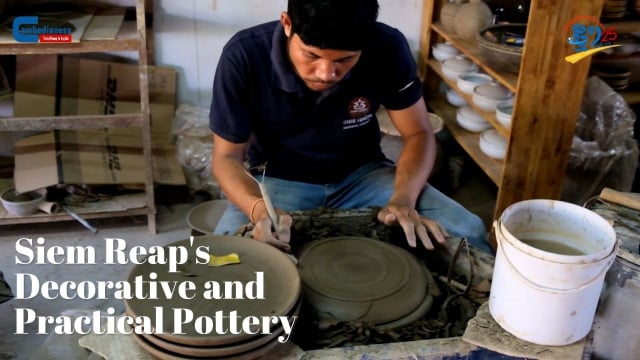 SIEM REAP – Ceramics still remain a popular choice among Cambodians and this, ever since the prehistoric period. Today, when clay pottery such vases, pots or pans is mentioned, Kampong Chhnang Province will most likely come into many Cambodians' minds.
Son Sihak, who is originally from that province where his family has long been making ceramics, is now the owner of the Morodok Ceramics shop in Siem Reap Province, which has long been famous for its temples and the culture, traditions and craftsmanship they reflect.
Son for whom pottery is a passion works according to three principles: taking inspiration from the sculptures at Angkor while listening to his own creativity and prioritizing customers' needs. Some pieces in his shop are made for daily use and others for decorative purposes.
Although he had a long background in this industry due to his family, Son attended the Royal University of Fine Arts to expand his skills and learn from Cambodian as well as foreign teachers. This gave him the opportunity to study various techniques and the difference in the quality of ceramics achieved through them.

Today, Son offers two types of ceramics at his shop: the classic ones and those of higher quality. Classic ceramic pieces are fired once in a conventional oven at 900 degrees Celsius while the higher-quality ceramics are produced by using an innovative natural gas and double heating process, he explained. After the first firing, each piece will be colored before being fired a last time at 1,300 degrees Celsius. The ceramics made through the second process are durable and waterproof. Plus, they are glazed, unlike ceramics made with the first technique.


Producing classic or higher-quality ceramics involve multiple steps, Son explained. Khmer ceramics require a specific type of dirt that can be only be found in Kampong Chhnang Province or Banteay Srei District in Siem Reap Province, he said, adding that the dirt coming from Banteay Srei District tends to be more costly.
The first step to make pottery consists of thoroughly mixing the dirt with water until it turns into paste. Next, the paste must be filtered to get rid of any remaining debris or stones. Then the paste filtered is left in a basin of water to obtain a really fine paste. Once the water has been drained, the clay must be fully dried before being shaped into an object.
For the glazing process, the dyeing and glazing materials are found locally although, at times, some materials or ingredients must be brought in.
One of the biggest challenges in the ceramics process tends to be discoloration during the firing process, Son said. The color might change at certain degrees of heat, which leaves no possibility of control or predicting what may happen, he said.
The potters who work for Son are well paid, he said, out of respect for their skills and trade.
In spite of the absence of international tourists during the dark days of COVID-19, Son's business has been getting support from customers in the country, he said. Due to the quality of the pieces he produces, Son's ceramics is used as decorations in hotels, restaurants and offices.
Son holds 2-hour pottery classes for people who want to try their hand at pottery. And visitors are welcome at his shop, which is located in Siem Reap City at 150 meters east of the Neak Bridge in Traing Village, Sangkat Slor Kram.
Long Ton is a Cambodian with a passion for Angkor and that era as well as Cambodian artistry of the past and present. A university graduate who speaks several languages, he has conducted tours at Angkor.
Song Daphea contributed to the story
Related Articles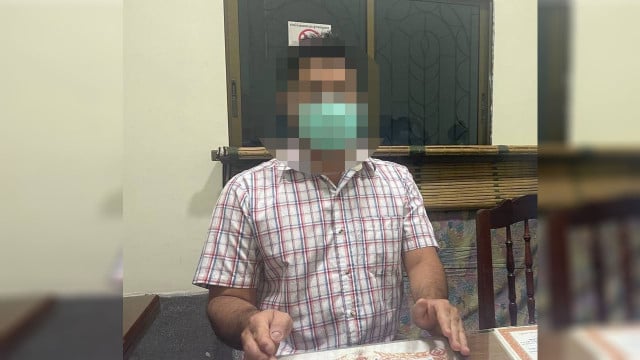 September 14, 2022 4:15 PM