With the "Kravanh" Project, Young Cambodians Support Education in Rural Areas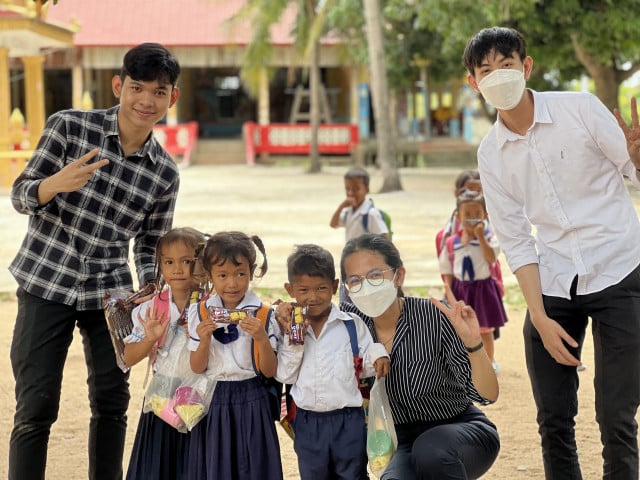 September 13, 2022 3:30 PM
PHNOM PENH – Boosting education in remote areas is the goal that a group of young adults has set themselves. They named their project "Kravanh", which is Khmer for "Cardamom mountains" – the longest and highest mountain range in Cambodia – to symbolize the long and prosperous future of children, where education is the only path to success.
Founded in June 2022 by six Cambodian students or recently graduated adults, Kravanh tries to improve teaching conditions by providing school supplies and nutrition through donations. The project is now led by 10 people.
Khan Sokleap is one of them. Born in 2002, she is part of the initiative's founding team and makes use of what she has learned at the Royal University of Phnom Penh to help manage the project's social media and online content.
As for now, she said the group is focusing on its first project, which they called "One for All". They support students at Kroper Pul primary school, located in the remote area of Kroper Pul village, Kraing Dey Meas commune, Rolea Bier district in Kampong Chhnang province. Students there lack everything: teaching supplies, books, and even access to clean water.
The idea started with one of Sokleap's friends who knew the precarious situation of the Kroper Pul primary school, where only two teachers and one principal have to teach 59 students of six different grades. Six youths decided to gather and collect donations, books, and school supplies to improve the situation at school, marking the foundation of Kravanh. Three months later, they are nearly ready to deliver the funds and supplies they collected.
"We want to help them with books, pens, and money as a package," the 20-year-old said with a twinkle in the eye during an interview on Sept. 9.
"When we did a site visit, we saw that children really liked reading story books. However, they had read all of the books at their school. So, we wanted to give them more story books," Sokleap said.
Reducing school dropouts in rural areas
Kravanh consists of youths from different backgrounds. Sokleap was a student with dual degrees – Teaching English as a Second Language and Business Management. In her senior year, a wide range of lessons, such as education, schools, or social studies, were given. Others are specialized in business management, banking and finance, or interior design.
Her studies prompted her to give back to society and put education at the core of her mindset, especially for young children who are at the base of the future development of the nation, she said.
"Children in the city can likely get more school materials than those in the remote areas, so we want to help children who are living in the rural areas," she said.
The team hopes that providing materials can help reduce the students' dropout rate, which is higher in rural areas than in cities. According to the 2019 census, 15.6 percent of the rural population declared it has never gone to school, while this ratio dropped to 7.9 percent in cities. The COVID-19 outbreak also massively disrupted children's education, Sokleap said.
"Students like reading and studying, but there is not enough to motivate and push them to continue. Thus, if we can help on that, it would be great," Sokleap said
No other support than Kravanh's
Kroper Pul primary school is built on the village pagoda's soil, with one concrete building with three rooms consisting of six classes and one room for kindergarten students. Being constructed in the middle of a floodplain, the road to school is often underwater as soon as it rains.
During her visit, Sokleap saw two classes being conducted in a single room, with the same teacher teaching the two groups at the same time. The students in each class sit back-to-back.
Khem Bunly, principal of the Kroper Pul primary school, said there is only a morning shift, with 59 students, including 34 female students. There are three rooms and six classes, with one teacher having to teach two classes at the same time in one room.
While the school's former building was built on the lowland, thus often being flooded, a new building was constructed in 2002​, high above the ground so children can keep their feet dry. But the school still lacks everything, said the principal: textbooks and materials, such as fans or tables in good condition. There is one water purifier, Bunly said, but it makes the water smell bad. Moreover, the students have to come to school by boat as soon as it rains.
He added that in the 20 years he has been the school principal, he rarely had the support of any organizations or groups. Kavanah is the first youth group that comes to him and offers help with school supplies and study materials through donations.
"Seeing the activities of Kravanh on its Facebook page, I'm happy that they are interested in helping schools in remote areas," Bunly said. "It's the first time. In the past, there was none."
Main challenge: Building trust
To support schools across Cambodia's countryside, the team is striving to seek donors and sponsors. While finding sponsors appears to be more difficult than expected, the group has been able to get its hands on donated material, Sokleap said.
The stories books, she said, are collected from the local libraries and donors who are willing to give away their books or buy them for donations. But the team is also in negotiation with one or two local bookstores that sell or work on children's books in Phnom Penh.
"We've got a lot from donors. Some don't donate money but books or notebooks," she said with a smile. "We also raise money on our Facebook page, where people can contact us and donate. We use that money to buy books and study materials only."
After carefully monitoring the Kroper Pul primary school's needs, the Kravanh team decided to donate story books, notebooks, bookshelves, and a water purifier. According to Sokleap, the principal preferred to receive these useful items over money.
While some donors expressed they fear their donations will not reach the children, Sokleap continuously claims that the team's goal is to help children in need, not to make any profit.
"For the moment, our main challenge is to gain trust from the donors," Sokleap said, adding that the schedules of the members are hectic as most of them or newly graduates and recently entered the professional world. They hardly have time to commit to the project.
But the Kravanh team aims for the top and won't stop at the first challenges they face.
Sokleap said she wants the initiative to continue after they've delivered the first donations to the Kroper Pul primary school. She already has the next school in mind, which is located in Kampong Thom province.
"We hope to embark upon more projects and help more schools in remote areas," she said. "At least, we would like to help one school a year."
Related Articles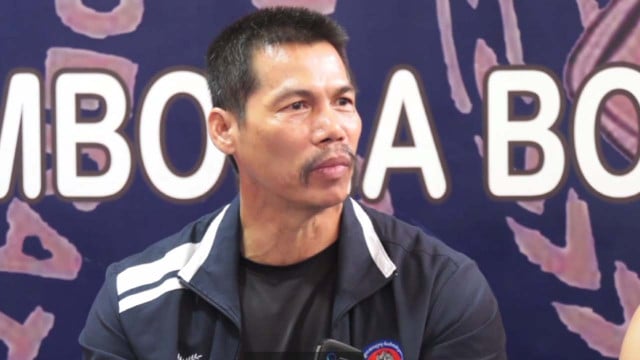 January 19, 2023 12:05 PM