Opinion: Women Are Backbone of the Eye Health Sector in Cambodia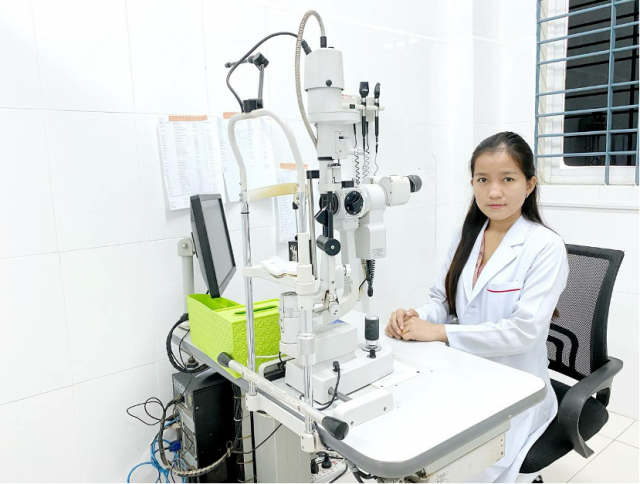 Dr. Kiry Lom Orng is one of many brave Cambodian frontline medical workers at Khmer-Soviet Friendship Hospital, risking their lives to save others during the COVID-19 pandemic.

On top of this role, she is also an ophthalmologist specialising in retinoblastoma--an eye cancer that begins at the back of the eye and is common among children.
Born and raised in Siem Reap Province, she is the youngest daughter of seven siblings. Coming from a big family like hers was common back then, as Cambodia was recovering from civil wars. She moved to Phnom Penh in 2009 for education opportunities.
Women's access to education opportunities remains a primary challenge
After graduation, Lom Orng has performed hundreds of cataract and pterygium surgeries. And there are many other brave and dedicated female ophthalmologists just like her—heroines we do not usually see on TV. But there are many struggles behind the success of female ophthalmologists like Lom Orng.
Back in the old days, most girls in rural areas ended up working in garment factories or taking care of the household so that their male siblings could attend classes. Lom Orng is an exceptional case. I have had the privilege to work with her for a few years now, and I am impressed by her dedication to improving eye health services in rural Cambodia.
She shares that as a woman, she struggled to access opportunities in education and training. She recalls an occasion when she was discouraged by friends from enrolling in an ophthalmology program because of her gender and social status. This experience is common and reflects the existing stigma against women in our society.
Access to educational opportunities for women in rural areas remains a primary challenge. The literacy rate among women aged 15 and above stands at 75.034% compared to just 86.532 among men. A 2021 Report of the Ministry of Education, Youth, and Sports notes that almost 950,000 adults in Cambodia can't read or write, and 51% of them are women.
These figures suggest that denying women opportunities, particularly those from rural areas and Indigenous communities, sees them lag behind their male counterparts, undermining their ability to reach their full potential.
Lom Orng said, "It was eye opening for me to learn that so many people go blind because they didn't have eye doctors. Some people didn't know that cataract is a disease that can be treated, and that blindness can be avoided. So, I think eye health education and public information is very important to raise awareness and end avoidable blindness."
Cambodia is on the right track towards gender equity in the eye health workforce
Breaking down the gender barrier in Cambodia remains a challenging​ mission, but an achievable task. Of course, gender equity cannot be achieved overnight. It takes time, resources, and collective effort, particularly support from the executive leadership.
The World Bank reported that women accounted for 48.34% of Cambodia's total labour force in 2020. And according to the United Nations Development Program, Cambodia has the highest participation rate for women in the workforce compared to other countries in the region.
Can we promote and safeguard gender equity in the public workforce? I say we can. And the Kingdom is on the right track towards gender equity in the eye health workforce. The Royal Government of Cambodia has committed to strengthen and enhance gender equity in public institutions.
The Fred Hollows Foundation has worked with the University of Health Sciences and the National Program for Eye Health, including the Ministry of Women's Affairs and the Ministry of Education, Youth and Sports to enhance gender equity in Cambodia's eye health workforce. Through the ophthalmology residency training program and scholarship schemes, female students from rural Cambodia and Indigenous communities have completed programs in ophthalmology and refraction nurse training.
As a result, the number of ophthalmologists in Cambodia has increased from 43 (7% women) in 2010 to 102 (27% women) in 2020. This new generation of eye doctors is now working in hospitals and eye units across 24 municipalities and provinces.
This has improved access to eye health services for Cambodian people in rural areas.
Gender equity will help eye health services respond better to the needs of women and people with disabilities
According to the Cambodia Rapid Assessment of Avoidable Blindness Report (2019),​ the prevalence of blindness in the country is estimated at 0.37%. Among Cambodians aged 50 and above, 2.5% are blind. The rate of blindness among women is 3.2%, compared to just 1.6% among men.
The draft National Strategic Plan on Blindness Prevention and Control 2021-2030 is now in the consultation phase. One of its objectives is to promote and strengthen the role of women in the eye health workforce. It also aims to enhance eye health services that respond to the needs of women and people with disabilities.
This reflects the long-standing commitment of the Royal Government of Cambodia towards gender equity and inclusion in public services, especially in the eye health sector.
The Fred Hollows Foundation in Cambodia will continue to work with government organisations and partners to increase the number of women and Indigenous peoples in Cambodia's eye health workforce and to ensure they have greater access to eye health services.
Happy World Sight Day! Please join us to promote women's role in Cambodia's eye health workforce.
Tokyo Bak is the Cambodia Country Manager of The Fred Hollows Foundation, an international eye health organisation working to end avoidable blindness in more than 25 countries.
Related Articles