Women Dominate UK Chevening Scholarship Successes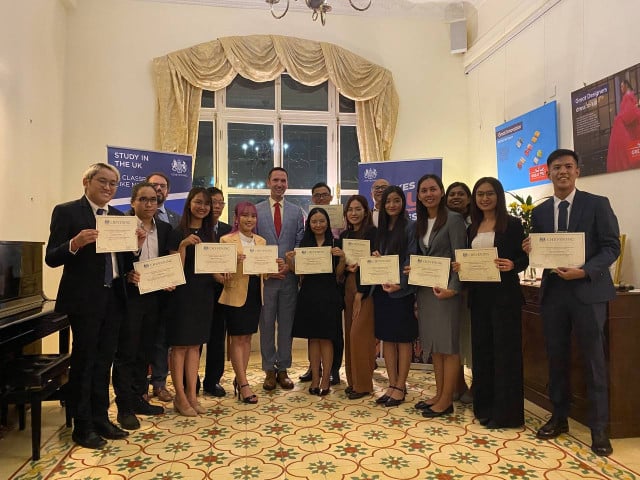 September 9, 2022 6:46 PM
PHNOM PENH – Eight women are among 11 students to pursue postgraduate studies in the United Kingdom through the Chevening scholarship program for the academic year 2023
The British Embassy hosted a pre-departure reception for the 11 on Sept. 8 at which the new ambassador pointed to gender equality promotion in Cambodia.
The students will embark on fields ranging from finance and investment to social and public policy, management with business analytics, law, banking and finance.
Other courses include education (technology enhanced learning), artificial intelligence, economics and international development. They will last a year and take place at different universities in the UK.
Ambassador Dominic Williams said the Chevening program was more than just about study. It was also a platform to promote education among Cambodian students as well as gender equality in Cambodia.
"I am happy that this year, among the 11 scholars, there are eight women. We want to use the Chevening program to provide new activities for Cambodia for development," he said.
The program also aims to strengthen the relationship between Cambodia and the UK and bring about development when the scholars return to Cambodia.
Marc Thayre, embassy deputy head of mission, said there are 209 Chevening alumni and a broad range of courses. Students also get the chance of an internship to experience different working environments in the UK.
The program chooses students who show strong leadership skills and will change the sector that they work in but the application process is very competitive.
Chhim Chaknineath, one of the successful students, will pursue her master's degree in law, specializing in international commercial law at the City University of London and will leave next week. She said she applied for the scholarship as she had always wanted to pursue postgraduate studies and longed to go to London.


From Phnom Penh and holding a bachelor's degree in law from the Royal University of Law and Economics, Chaknineath said there were two steps to the scholarship, the application and interview, which require applicants to show strong leadership skills and aims for social development after completing their studies.
Applicants have three choices of university to which they must apply​. If none of the universities accepts their admission, the scholarship is void.
"I'm happy that I could make it," Chaknineath said. "But, every step, I think, is a lesson. I'd never applied to a university abroad, and I did not know the process.
"So, when I started to apply, I began to know that there were many requirements. I also have to find accommodation. I have learned a lot during the Chevening scholarship process."
After completing her studies, Chaknineath will keep working to provide legal services to Cambodians, suggesting those who want to succeed in the scholarship do excessive research to prepare well. "Importantly, be yourself," she said.
The program was established in 1983 and has provided opportunities for more than 50,000 students.
Related Articles