Women Lead Restoration of Angkor Thom's West Gate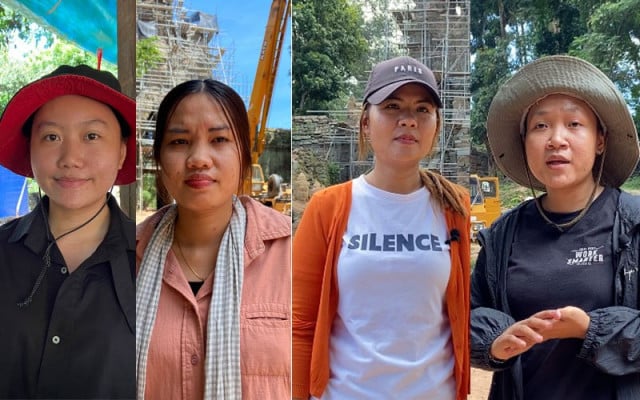 PHNOM PENH – Four female architect and archaeologist members of a team leading the restoration of the Angkor Thom's West Gate for more than a year will soon see the results of their efforts.
Architects Meng Sovanlylin, 28, Han Sochry, 30, and Kean Panhavantey, 29, along with archaeologist Kim Seng Pheakdey, 35, spoke about their pride in leading their first archaeological site restoration. Just 10 percent of the work remains to be done and this is expected to be complete in three months.
The West Gate, known as Takav Gate, collapsed hundreds of years ago. The APSARA National Authority restoration team started the project in February, 2021, with financial support from the Heng Development Co. LTD.
Panhavantey has worked for the APSARA authority for six years. She carries documents containing information about the site's history and renovation plan.
"We have to go down and verify the layout and the stones that we registered when dismantling and arrange them in order. The repair team did well because we planned in advance which stones to put in first and which ones should be added later."
Sovanlylin joined the APSARA Authority in 2016 after graduating from the Royal University of Fine Arts with a degree in architecture. She said temples almost everywhere had fallen into disrepair. This meant the next generation must use their skills to restore them.
Lylin and Pheakdey have to climb up and down the scaffolding on the 24-meter-high gate to inspect the stone work. Sochry and Vantey work with the team on the ground and monitor construction.
All share responsibility for many tasks but say they do it without too many disagreements.
"As an architect, I would like to see ancient architecture not go to rack and ruin and I hope that next generation of architects continue to use their talents to help the temples so that they can remain standing," Meng Sovanlylin said.
"The temples must remain intact because they represent our identity and our national values."
More than 70 people sometimes work at the site. The four women are senior to men who have experience in repair work.
Pheakdey, who has more than 12 years' experience with the APSARA Authority, said this is her first time leading the work together with another three women at the gate site.
She said pride is one thing, but for her to lead the work successfully, she must have her own way of working, especially with a team of professionals.
"I am regularly at the construction site. We organize forces into different teams. There is an elephant head repair team, a Brahma face repair team, a gatekeeper, and a stone carving team," she said.
"We have to respect them because they are all experts. When we appreciate their work, they will feel valued."
As young and inexperienced as an architect, Han Sochry values her work which she said has taught her a lot about leadership.
"We learn from work in addition to theory in books," she said.
"We learn about our relationships with workers, division of work tasks, learn about patience, and these things make us grow. Communication is the most important thing for leadership. We value and respect everyone regardless of their ages."
The involvement of women in the project to restore the Takav gate extends to Seang Chanheng, president of Heng Development Company.
Originally written in Khmer for ThmeyThmey, this story was translated by Kheav Moro Kort for Cambodianess.
Related Articles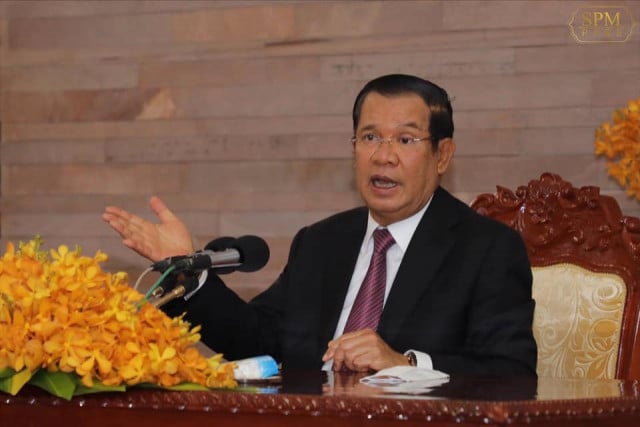 February 15, 2021 11:14 AM
September 30, 2022 3:07 PM