Women of Banteay Meanchey Resisting the Pull of Migration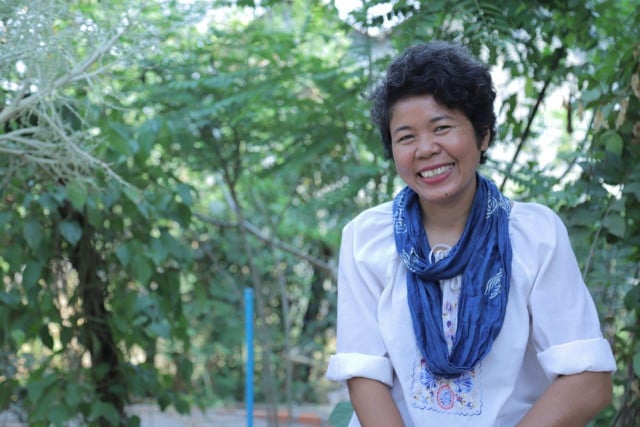 Gerald Flynn
March 31, 2020 7:20 AM
As COVID-19 highlights the extent of Cambodia's migrant-worker population in Thailand — now returning en masse — meet the women working to address the lack of opportunities that exist within Cambodia's borders.

SISOPHON--Some 400 kilometers from the kingdom's capital, the economic gains promised by Cambodia's much-touted 7 percent gross domestic product (GDP) growth seem yet to materialize. Rumbling down National Road 5, tarmac soon gives way to mud, dirt and dust.

Phnom Penh's skyline is littered with the green and blue netting that envelops construction sites. These monuments to economic progress have become ubiquitous as the tuk-tuks weave around imported luxury cars. But the capital — as in many countries — is far from representative of the state of the nation. For Banteay Meanchey and many other provinces, Cambodia's GDP figures do little to reflect the realities on the ground.

Perhaps that's why Joseph Stiglitz, Nobel Prize laureate in economics, suggested in November 2019 that we retire GDP as a metric. Writing in the British newspaper The Guardian, Stiglitz argued that the GDP fails to reflect the standard of living in a country and, he said, "Nor do our standard GDP measures provide us with the guidance we need to address the inequality crisis.

"So what if GDP goes up, if most citizens are worse off," he wrote. "In the first three years of the so-called recovery from the [2008] financial crisis, about 91 percent of the gains went to the top 1 percent. No wonder that many people doubted the claims of politicians who were then saying the economy was well on the way to a robust recovery."

In Cambodia, this certainly rings true. The GDP-generating sectors of tourism, construction and manufacturing fail to reach rural communities, instead remaining concentrated in urban areas. This in turn forces those living in Banteay Meanchey to play to the province's strength: a shared border with Thailand.
Migration Through Desperation

The Ministry of Labour and Vocational Training in February announced that there were some 1,288,000 Cambodian workers living abroad, with the majority of them thought to be in Thailand. The ministry went on to say that annually, these workers send around $2.8 billion home from Thailand, South Korea, Japan, Singapore, Hong Kong, Malaysia, and Saudi Arabia through remittance channels.

A 2019 report of the International Organization for Migration (IOM) — a branch of the United Nations that specializes in analyzing migration flows and patterns — reported that "[i]n the aggregate, migrant workers in Thailand send a combined $2.8 billion in remittances through formal channels to Cambodia, the Lao People's Democratic Republic, Myanmar and Vietnam."

The report also estimated that informal remittance flows from Thailand are potentially double the size of formal flows and contribute between $6-10 billion to the economies of Cambodia, Laos, Myanmar and Vietnam — figures for each country were not specified.

According to the IOM, it is often women in rural areas who receive this money, having been left behind by the male members of their families. As the men of Banteay Meanchey Province run the risks associated with migrating to Thailand, legally or otherwise, a range of women-led initiatives have sprung up to try and curb migration by plugging the opportunity gap.
The Eco-Tourism Alternative

In the case of Darin Collineau, co-founder of OrganiKH, her business aimed to provide an alternative to migration while developing her hometown of Svay Chek in Banteay Meanchey province. By using hand-made tools, traditional building techniques and only sustainable materials, OrganiKH hoped to provide the province with an example of eco-tourism as a means of generating a sustainable business.

"We started in June 2014," Darin said. "My husband Olivier Collineau had lived in Cambodia [since 2003] and we wanted to do something, to develop something more than just a rice field," she said, gesturing around at the expansive homestay.

Suggesting a sustainable lifestyle supported by taking only what is needed from Cambodia's natural resources, OrganiKH has hosted natural building workshops, rustic getaways and sessions on environmentally sustainable living for nearly six years, Darin said.

This has provided a platform for local farmers and artisans, bringing tourists into a part of Cambodia that often tends to only be associated with Thai gamblers in Poipet. Instead, the Collineaus have developed an understanding of permaculture: the guiding principles of design that aim to emulate patterns in nature. This, Darin said, aims to bring about sustainable development and allow people to live in harmony with the environment.
"By working with local farmers to encourage sustainable growth, we've been able to develop agriculture here: We cut out the middlemen who influence the cost and ensure that the locals get a fair price for their work," she said, adding that they have worked with farmers to ensure that products are organic and meet the required standards.

"The plan, initially, was to support my family," Darin explained. At the time, her father and brothers were all employed as migrant workers in Thailand's booming construction sector. "But we saw it more as an opportunity to prevent them from having to migrate," she said. "Thailand offers only short-term financial solutions. This could have been a long-term solution."

For the Collineaus, the struggle has gone on long enough: OrganiKH closed as of March 2020 following a dispute with Darin's family over the use of the land. Darin predicts that her father will sell the land on which OrganiKH is built, especially now that migrant work is no longer available in Thailand.

"I hope that the networks we built and the products that came out of them will continue without us," she said. "I hope people will see that there is a different way of living: We, Cambodians, are becoming more disconnected from the environment we live in."
Creating a Local Supply Chain

Where the Collineau's efforts end, other women have stepped up with similar ambitions. Nhem Sorida laughed as she recalled the reaction of her family when she told them she was quitting her job with a life insurance firm.

"People said I was crazy," she said. "I gave up what a lot of people saw as a 'good job.' But now, I'm able to focus on my work and it's totally different."

After a decade working in an office, Sorida grew depressed by the state of her hometown of Sisophon. Both of her sisters had migrated for work, joining the estimated 650,000 women who abandon their homes in Cambodia for a better life in Thailand.

The IOM report notes that roughly 50 percent of all Cambodian migrant workers in Thailand are women, and that their situation is often worse than that of their male counterparts.

"Women migrants experience intersectional discrimination that often finds expression in less favorable working conditions," the report reads. "Women's work is undervalued, with wages systemically lower than those for nationals or men migrants."

Following her resignation, Sorida also set off to Thailand, but not for work. Instead, she joined a group of women who create organic cosmetic products using herbs, fauna and flora. All self-taught, these women have come together from across Southeast Asia to learn from one another, developing the skills needed to find sustainable means of income.

"A Thai friend of mine invited me into a messaging group where I discovered all these women who were learning by doing," she said. "A lot of the resources were in Thai, but my friend helped me and we found resources in English too. That was how it started."

Today, Sorida's range of products includes soap, shampoo, conditioner, handwash, laundry detergent and even toothpaste. And with more organic products being developed by her network, she plans to expand her catalogue based on the availability of ingredients in Banteay Meanchey province.

"Some of the herbs we need aren't cultivated, but they grow here naturally," she explained. "So we need to upscale production to meet demand. And in doing that, we're developing a supply chain of local farmers who are starting to see the potential in more and more of the ingredients we need."
Creating New Opportunities

Since launching, Sorida has grown her business, taking on two interns from a local university and hiring her two sisters to cope with the volume of orders.

"We're taking between 3,000 and 5,000 orders a month now," notes Sorida with pride. She has since been contacted by a hotel who requested a sample of her hair products and is awaiting their feedback.

Beyond just building her own business, Sorida is confident that over the course of this year, she will be able to deliver training sessions to other women in Banteay Meanchey province and help to create more local jobs.

"There are few people with these skills, particularly here, but I can train while still producing," Sorida said. "I've always wanted to do something for the community and now that my sisters are back, we're all happier in our hometown. So we really want to create this opportunity for other families too."

The actions of Darin and Sorida do not exist in a vacuum. Lida Loem is co-founder of SHE Investments, an organization dedicated to the development of women-run businesses. The International Labour Organization notes that some 65 percent of Cambodian businesses are run by women and, according to Loem, there is an increasing trend of women becoming more involved in the business community.

"For most women, it's about generating extra income and being able to offer more support to their children and families. But in parts of Cambodia, it's about trying to avoid migration," she said, adding that increased internet connectivity has played a role in Cambodian women going into business.

"While it's common for women to stay behind as men migrate for work, I think the business environment in Cambodia is also improving for women, but it's different between urban and rural communities," she explained.

Urban communities typically have access to more resources, more developed networks of women who run their own businesses and, ultimately, more customers, Loem said. But for rural communities, much of this does not exist and so it's much harder, she added.

Despite these difficulties, women are leading the charge in providing alternatives to the potentially exploitative labor available across the border.
The Impact of COVID-19 and Migration

However, all of these efforts have been sadly overshadowed by the Coronavirus Disease 2019 (COVID-19) pandemic, which has seen an estimated 45,000 migrant workers clamoring to cross the Thai border back into Cambodia.

Deputy Prime Minister Sar Kheng has publicly admitted that Cambodia lacks the capacity to adequately test and quarantine these returning workers, instead asking them to self-isolate for 14 days when they return to their homes throughout the country.

"In terms of COVID-19, there was no plan for this volume of migrant workers returning en masse," said Moeun Tola, director of CENTRAL Cambodia, a local non-government organization that focuses on labor and human rights.

"Both Hun Sen and Sar Kheng contradict themselves, with the deputy prime minister saying they don't have the capacity while Hun Sen tells us everything's fine — I worry that there's no plan and it's all talk: Telling housewives that things are better because their husbands have come home is not what the country needs right now," argued Tola, adding that, by CENTRAL's estimates, there were 2 million Cambodians working in Thailand as of December 2019.

For Tola, the concern is that an increased severity in the COVID-19 pandemic will accelerate the number of Cambodian migrant workers taking dangerous chances to return home. On March 31, the Thai Enquirer reported 127 new COVID-19 cases in Thailand, bringing the total number of infections to 1,651 while the death toll stands at 10. Cambodia, by contrast has at press time recorded 109 confirmed cases of COVID-19 and no fatalities.

"If the government has no plan for the ones who have returned already, then what about 2 millions?" Tola said.

Thailand's private sector has been forced to pay full salaries to workers if the company remains operational or 50 percent salaries if operation are suspended, Tola said. "This only applies to documented workers. So, there are still around 20 percent of those 2 million Cambodian workers who will have just lost their jobs.

"This points to a possible explosion of undocumented workers returning home very soon," Tola said.


Related Articles