Workers Appeal to the Government to Improve Safety on Construction Sites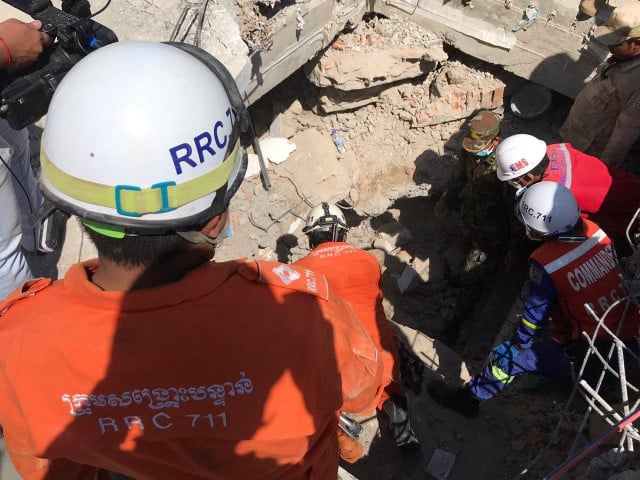 Phoung Vantha
January 21, 2020 10:03 AM
PHNOM PENH-The Center for Alliance of Labor and Human Rights (CENTRAL) and the Building and Wood Workers' Trade Union of Cambodia (BWTUC) Tuesday submitted a petition urging the Cambodian government to take strict measures to ensure better working conditions and safety on construction sites for workers.

Supported by 79 trade unions, associations, civil-society organizations and community-based members, the petition was submitted to the Ministry of Labor and Vocational Training and to the Ministry of Land Management, Urban Planning and Construction.
According to BWTUC Vice-President Sou Chholnh, this appeal was prompted by BWTUC members noting that a construction worker still faces a great many challenges, does not benefit from a minimum wage law, does not have a national social-security fund insurance, and still works in inadequate conditions.
The petition lists seven main issues to be addressed.
This includes, the petition reads, "[t]he immediate suspension of construction projects across the country pending inspection and evaluation by expert institutions. The conducting of regular and efficient labor inspections of safety conditions and labor standards on construction sites, and the registration of all construction companies in Cambodia with the NSSF [National Social Security Fund].
"More efficient implementation by the Ministry of Land Management, Urban Planning and Construction of its 'Instruction to employers to provide accommodation to construction workers outside of the construction site,'" the petition reads.
"We are waiting for a response from those two ministries," Yan Thy, secretary-general of the Building and Wood Workers Trade Union Federation of Cambodia said Tuesday, adding that the federation will keep an eye to see whether the requests made are being considered.
The Ministry of Land Management, Urban Planning, and Construction just released a construction law, which with contains 22 chapters and 111 articles meant to regulate the construction sector and implement adequate technical and safety standards on construction sites throughout the country.
Regarding the recent accidents on construction sites in Banteay Meanchey and Preah Sihanouk provinces, the Ministry of Land Management said that they mostly had been caused by technical errors and unauthorized practices. The ministry said that legal action will be taken against the companies involved.
Land Management Minister Chea Sophara recently said that it was strictly forbidden to live in a building under construction—even temporarily—and that no one should be allowed on a construction site unless he is there for a set purpose.
Over the last few months, three buildings under construction have collapsed in Cambodia, causing the death of many construction workers and injuring many others.
On June 22 last year, a 7-story building under construction collapsed in Preah Sihanouk province, killing 28 construction workers and injuring 26 people.
On Dec. 2, a dining-hall roof under construction collapsed at the Prasat Kokchork Pagoda in Siem Reap Province, taking three lives. And on Jan. 3, six buildings under construction collapsed in Kep Province, killing 36 people and injuring 23.
Related Articles