Workers Handling Covid Bodies Speak of Challenges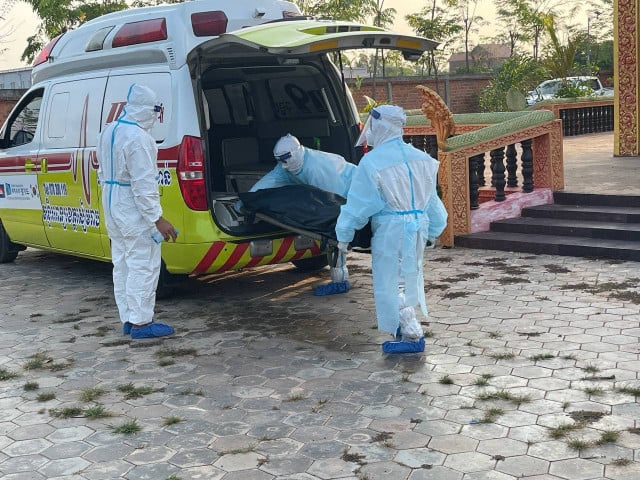 Stifling protective suits and emotional scenes add to strain
SIEM REAP--As deaths rise with the surge in COVID-19, workers responsible for managing the bodies of victims have spoken of the risks and challenges but acknowledge their critical role in difficult circumstances.
Kath Kien, 58, is a member of the mortuary staff and in charge of preparing corpses of coronavirus patients at Siem Reap Provincial Referral Hospital.
He has been working in the department since 1994 and was actively involved in the work when the virus was first detected in Siem Reap in early 2020.
Kien admitted that this job is challenging for himself and dangerous for his family but he does not hesitate to carry it out.
"How could we not do that?" he said. "We learn and understand and must help other people and those who die."
The work of handling the bodies was not too hard as he had been trained and had worked on the front lines during the previous outbreak of bird flu.
Another worker, Sar Sary, also understands the risks but said it is his duty to help people during a difficult time.
"This is our duty no matter how worrisome this can be, and it must be done to help our society," Sary said, adding that he has a lot of regular work to do at the Covid-19 treatment center. His work includes cleaning, spraying disinfectants and preparing bodies.
He said had proper training by doctors on managing bodies of Covid-19 patients. Before beginning to prepare any corpse, it was necessary to prepare the essential materials such as wearing the right protective clothing, bags for packing and other items. Each preparation requires three people to help.
Asked about the difficulties, Kien said, "The packaging work requires us to wear protective clothes, and we also have to use plastic bags to wrap bodies. This takes up to 20 minutes.
"Then, we lift the body and transport it to the crematorium and we can take off our clothes after we return to hospital."
During each operation, he and his colleagues have endure the heat and discomfort of the protective clothing. The work takes up to 2 hours, which sometimes makes it very difficult for him.
Cambodia is detecting several hundred new Covid-19 cases daily with many deaths. As of July 19, cases reached 67,971, with 1,128 deaths and 60,017 recoveries.
Siem Reap province is one of the virus hotspots. As of July 15, 26 patients had succumbed to the virus in the province, and provincial authorities have set up two crematoriums at pagodas far from the town to prevent any risks.
Experiencing emotional distraught
In addition to personal challenges, the mortuary workers worry that they could put their families at risk.
Sary said, "I explained to my family that my work is dangerous, but I have to try to do it because it is our job and most importantly, we are highly vigilant."
He went on to say that before going home, he has to take off his clothes and take a bath to clean up.
"Then, I have to change my clothes, spray disinfectant and when I get home, I have to take off my clothes and take a shower again," he said.
"I am always anxious when my grandchildren come close because we cannot see where the virus is. We need to stay protected to prevent any problems."
Another problem Kien and Sary encounter is being the last person to be with the deceased as their relatives are not allowed to be around. Sometimes they witness emotional breakdowns.
But both have been trying to regain their emotional strength and be determined to carry out the work to help prevent the virus from spreading.
"I think this work helps our society to prevent diseases from spreading and we are doing important work," Kien emphasized.
On the other hand, Sary said, "When there was the first death, it was extremely difficult to see the body. But we still managed to be sturdy in handling the job."
Related Articles