Working as Normal: Hun Sen Cancels Khmer New Year Celebrations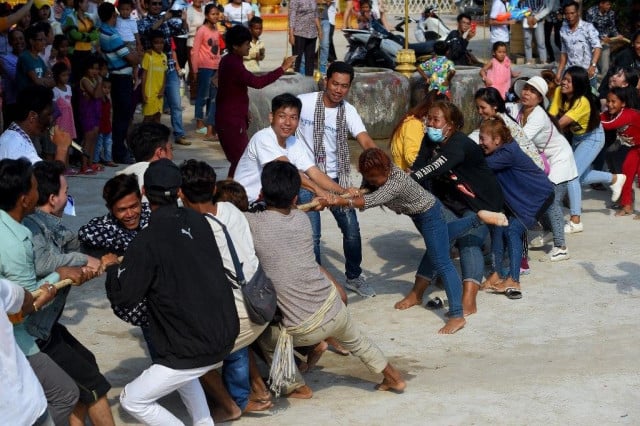 Torn Chanritheara
April 7, 2020 5:54 AM
The government argues that such measures are necessary, yet Hun Sen still advises people to go to work in direct contradiction of World Health Organization guidelines on social distancing.
PHNOM PENH—Prime Minister Hun Sen on Tuesday said that the government has decided to cancel Khmer New Year celebrations to stop the spread of Coronavirus Disease 2019 (COVID-19), saying that both the public and private sectors will continue working as normal.
Khmer New Year, one of the most important traditional events in Cambodia, was set to be held from April 13 to 16. Speaking in press conference, Hun Sen said that the public holiday will be compensated in appropriate time after the COVID-19 situation improves.
Hun Sen told reporters that the reason is to stop people from gathering during this period which could lead to mass infection. He called on people to reduce travel to their homeland as it will significantly cut down the infection.
"If [we] let [people] travel, the situation after the New Year will become much riskier," said Hun Sen. Speaking from the Peace Palace, he added that all public institutions and private sector businesses must continue to work, claiming that the safest places to be are factories, companies, and other institutions.
This claim appears to be in direct contradiction to guidelines released by the World Health Organization who have urged people around the world to stay at home and not risk spreading the disease in workplaces.
However, Hun Sen went on to say that all Cambodians can still prepare for celebrations in their own homes.
Responding to question of whether there will be penalties on those break the ban, Hun Sen said that there is no plan to fine violators because government hasn't imposed a curfew or lockdown.
He acknowledged that some people may grow complacent due to the lack of new infections reported for three days in a row, but urged all citizens to remain vigilant as the situation remains very risky for Cambodians.
Meanwhile, he noted that both public and private schools across the country will not reopen after Khmer New Year as planned.
As of April 7, Cambodia have reported total number of 115 confirmed case with no deaths. The total number of COVID-19 patients being discharged rose to 58 as more Cambodians recover from the virus.


Related Articles