Working together to Protect Spawning Fish during Seasonal Fishing Ban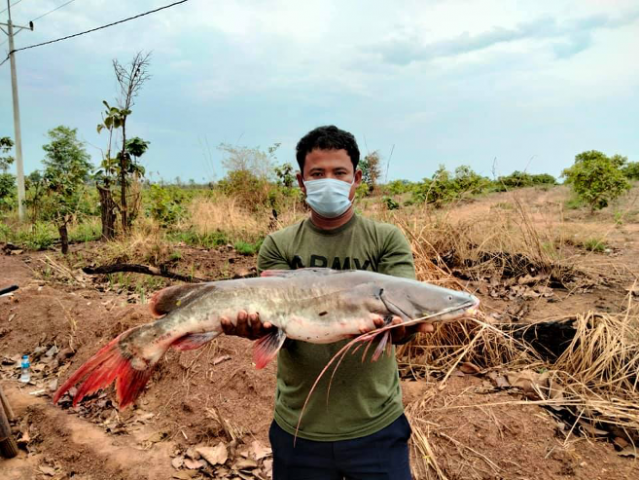 Chhut Chheana / USAID Wonders of the Mekong
May 15, 2021 11:17 AM
STUNG TRENG--Stung Treng Province is considered by Wonders of the Mekong project researchers to be the last habitat in Cambodia for many fish species to spawn and replenish fish populations in the Tonle Sap Lake and floodplains.

Every year, between May 1st and September 30th, the Stung Treng Provincial Administration issues a closing of the fishing season to allow breeding fish to successfully spawn and produce billions of fish larvae. However, fishermen are still allowed to continue fishing with small-scale fishing gear, excluding the use of nets, electrofishing, and explosives.

Vong Savoeun is the Deputy Director of the Stung Treng Fisheries Cantonment under the Department of Agriculture, Forestry and Fisheries, and is Chief of Inspections and Aquaculture. Savoeun told the Wonders of the Mekong project that in past years, the Fisheries Cantonment of Stung Treng held public forums and seminars to educate the public on the impacts of using illegal fishing gears on fish populations during the spawning season. They also stressed the importance of preserving fish habitat in Stung Treng Province, specifically because it is the last successful spawning habitat for fish in the country.
Savoeun is active in cracking down on illegal fishing in the province. "The Fisheries Cantonment of Stung Treng has summoned a small number of fishermen who continue to use illegal fishing gear to educate them and encourage them to stop using those illegal gears," said Savoeun. He added, "There are also transactional fines for brokers who buy fishery products acquired from using illegal fishing gear."

However, he observed that there are still a small number of fishermen and brokers who continue to commit illegal fishing and buy illegally obtained fishery products. This post includes pictures of spawning fish of several important species ​that are in danger during the closed fishing season, including Osphronemus exodon, Pangasius larnaudii, Hemibagrus wychioides, and Channa micropeltes.

On his Facebook page, Savoeun expressed his disappointment by writing: "If we just gently reprimand those breaking the law, the fishery resources will be depleted .... We need to be strict according to the rule of law (there should be consequences for those that buy or sell fish that are acquired using illegal fishing gear/electrofishing gear)," adding that "We are abusing the fishery resources... I do not understand! "
Savoeun says that brokers often complain that his inspection team abuses their power during crackdowns. Some brokers have used abusive language, as they are aware that they are collecting, buying, and transporting fish caught by illegal fishing gear.

Despite the insults from the fishing offenders and brokers, Savoeun, who is well-known as a crime prevention officer among fishermen in the province, expressed that he was determined to gladly continue enforcing fisheries regulations.

"Fishing offenders and brokers are not happy, but most of the people and fishermen in the province are happy and applauding the crackdown," said Savoeun.

"Every time there is someone committing illegal fishing activities, I get the information from local fishermen," said Savoeun. This demonstrates that fishermen appreciate the action to address fisheries crime and support and engage with the Fisheries Cantonment of Stung Treng and their enforcement practices.

Please join Savoeun and Cantonment Fisheries Stung Treng in protecting all of the breeding fish in Stung Treng to support the replenishment of fishery resources, and support the well-being of the people of Cambodia.
Related Articles