World trade uncertainty soars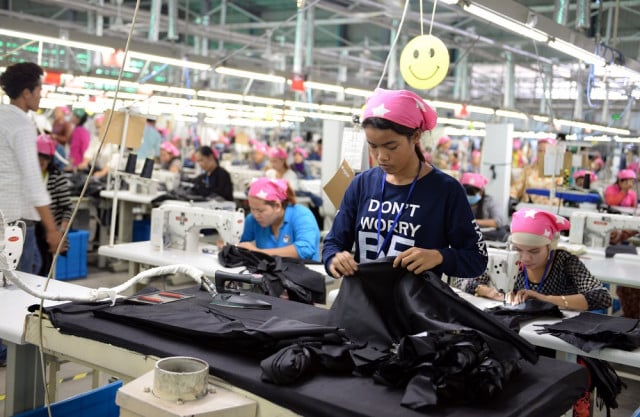 Thmey Thmey
September 11, 2019 4:53 AM
Uncertainty now spreading beyond US and China — and increase in first quarter could cut global growth by as much as three-quarters of a percentage point this year.

PHNOM PENH - Global trade uncertainty has soared since the third quarter of last year as the US-China trade war escalates, a new index shows.
The World Trade Uncertainty index — developed by economists at the International Monetary Fund (IMF) and Stanford University — tracks 143 countries since 1996.
Unveiled in a blog published by the IMF on Monday, the new index is based on Economist Intelligence Unit country reports.
To construct the index, the economists tallied the number of times "uncertainty" or similar words are mentioned near words related to trade.
According to the blog, the index is rising sharply, having been stable at low levels for about 20 years.
"The index shows increased uncertainty starting around the third quarter of 2018, coinciding with a heavily publicized series of tariff increases by the United States and China," it says.
"It then declined in the fourth quarter of 2018 as US and Chinese officials announced a deal to halt the escalation of tariffs at the G-20 meeting in December in Buenos Aires.
"It significantly spiked again in the first quarter of 2019 following a substantial expansion of American tariffs on imports from China on March 1."
The economists also found that increases in uncertainty foreshadowed significant output declines — the increase in the first quarter of 2019 could be enough to reduce global growth by up to 0.75 percentage points this year
Elevated trade uncertainty beyond US and China
Trade uncertainty was found to be increasing not only in the United States and China.
High uncertainty was recorded in Canada, Mexico, Japan, large European economies and "many other countries "geographically close to the United States and China."
In terms of regions, the economists found that rising uncertainty had mostly been felt in North and South America followed by the Asia-Pacific region and Europe.
Advanced economies showed the highest uncertainty, followed by emerging markets.
While rising, uncertainty remains — on average — at low levels in low-income economies.
According to the economists, the new index is the first trade uncertainty index for a large set of advanced and developing economies. Other indexes are limited to America, the global economy or a set of 44 countries.
The new index is part of the World Uncertainty Index: https://www.policyuncertainty.com/index.html
​
Related Articles