World's First: Cambodia Successfully Breeds a White-Shouldered Ibis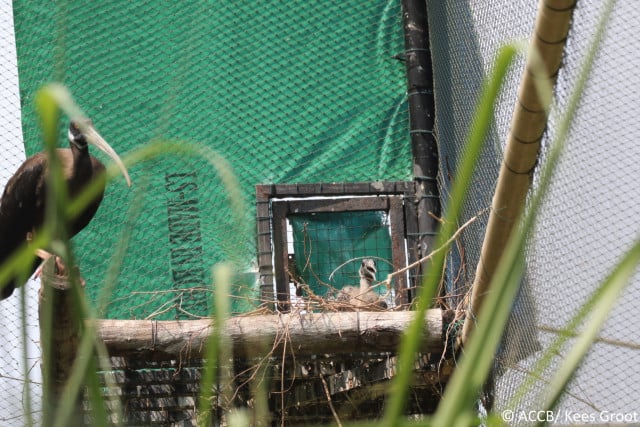 PHNOM PENH – The Angkor Centre for Conservation of Biodiversity (ACCB) announced on April 3 it successfully bred a white-shouldered ibis, after an egg hatched at the center on March 18.
This is the first time a human team has managed to breed two members of this critically endangered species in captivity. Not only in Cambodia but in the whole world.
"With this first chick, we have achieved the world's first breeding success with this species. We are very proud," the ACCB said. "This is the first step in building a sustainable insurance population for this critically endangered species under human care."
The conservation center said it had put in a lot of effort over a number of years to successfully breed white-shouldered ibis.
White-shouldered ibis is listed as critically endangered on the IUCN's red list and is considered to be one of the most threatened bird species in Asia.
While it used to be widespread across Southeast Asia, the bird is now only seen in Cambodia, southern Vietnam, extreme southern Laos and a small part of Borneo island.
With more than 790 individuals, Cambodia is home to an estimated 85-95 percent of the bird's global remaining population. The majority of them can be found in the country's northern and northeastern areas, including Preah Vihear, Mondulkiri, Ratanakiri, Kratie and Stung Treng, and the Tonle Sap lowlands.
ACCB is the country's only entity allowed to insure and take care of the endangered bird species.
Since 2011, the organization has been successfully breeding peafowls. Such an experience was key to leading to the successful breeding of white-shouldered ibis last month.
On April 20, eight green peafowl eggs hatched. Once they have grown sufficiently and are independent, they will be released into protected areas to increase the number of peafowls living in the wild.
Originally written in Khmer for ThmeyThmey, this story was translated by Te Chhaysinh for Cambodianess.
Related Articles