Worms' Turn for Organic Farming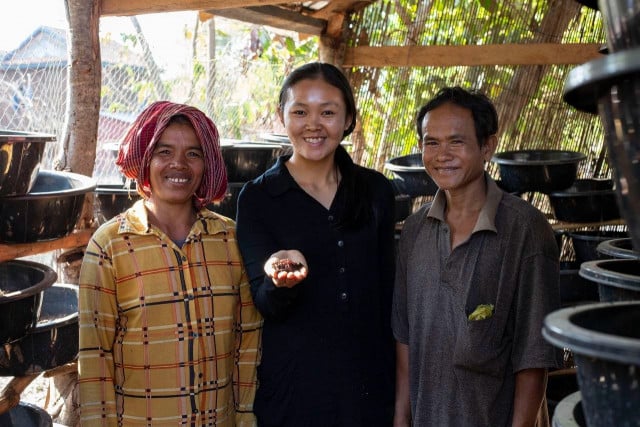 PHNOM PENH – Earthworms may not be attractive but they are a big help for farmers as a source of organic fertilizer. Young entrepreneur Sok Sothearath saw the advantages and uses worms to produce fertilizers to help farmers reduce their use of chemicals.
A goal to reduce chemical fertilizers
Some farmers use animal dung to fertilize their crops but most farmers use chemical fertilizers almost exclusively despite training in composting techniques and organic fertilizers.
However, overuse of chemical fertilizers has caused worms to disappear from the soil, leading to reduced fertility. There are fears that the use of chemical fertilizers on crops and vegetables is also harmful to public health.
With a degree in agronomy, Sothearath, 28, decided to start a worm farming business in 2018.
The determination to start this business partly inspired Sothearath to found the JUNLEN project, an initiative to help farmers' income and reduce the use of chemical fertilizers.
JUNLEN aims to upcycle organic waste by raising earthworms for vermicompost. It provides training and investment in smallholder farmers through contract farming. Its mission is to create a network of earthworm farms toward sustainable farming.
The project has run for more than four years and can produce about 10 tonnes of vermicompost per month.
Seeing the disadvantages of chemical fertilizers, Sothearath wanted to grow rice and crops using organic fertilizers. Through the JUNLEN project, farmers are trained to process organic fertilizers from earthworms and in other agricultural skills.
"We collect waste from earthworms and put it in soil, allowing the rice plants to get nutrients," said Sothearath. She said earthworms had two main benefits.
"First, the soil in the area is getting better because of the abundance of earthworms and other insects that help to create soil respiration. Second, the soil is moist, which reduces the use of water and fertilizer," she said.
Project faces farmers' lack of interest
Getting farmers to stop using chemical fertilizers is not easy. When she spoke to farmers in a community in Kampong Chhnang province about the worm farming project, only one farmer family was interested.
"It was really hard. It seemed like we had different goals but we really wanted to help them," she said.
"We know that only income makes them happy working with us. If they don't earn money from farming, they will take another job like as a laborer. This is what I have to overcome," Sothearath said.
The JUNLEN project trains farmers in various techniques as well as providing ideas and materials. Farmers who cooperate with the project can also make profit from the vermicompost (earthworms' manure).
Sothearath said the difficulty was that only a few farmers were interested in her business. Most continued to use the old methods.
Her business is currently operating in a community in Kampong Chhnang province with five families who are able to collect about 10 tonnes of earthworms every month. Sothearath goes directly to the community to explain her ideas and check on the work with farmers.
Sothearath is also exploring the possibility of cooperating with other communities as well, but farmers need more time to understand the worm farming business.
"When I meet farmers who like my ideas, it gives me the courage to continue. That's why I tried to educate them as well as help them to increase their income," Sothearath said.
A vision of expanding farmers' skills
There's no such words as "Give Up" for Sothearath even though many farmers do not understand her plans. She wants to make a profit but she also wants to see farmers creating a new business on their own.
Sothearath said the project provides farmers with financial support, materials and technical training about composting organic fertilizer.
"Through this project, the farmers agree to raise earthworms and produce vermicompost and I helped them find a market for the product," she said.
Sothearath also wants to see more skilled farmers learning about diversity of sustainable agriculture and she is willing to help them.
"They earn partly by selling organic fertilizers, but if they learn more about diversified, sustainable agriculture with vegetables and fish, it will contribute to increasing their income," she said.
Farmers can use the organic fertilizer from the project in their other agricultural activities. It's free of charge, she said.
"They can grow various vegetables to increase their income. I try to learn about them so that I can help them farm something more," she said.
Challenges of the JUNLEN project
Organic fertilizers are not popular among farmers yet. JUNLEN's organic fertilizers are supported mostly in Phnom Penh as customers buy the vermicompost for home-grown crops and for plants in homes or offices.
"The techniques still have problems that cannot be resolved immediately," she said. "It is different from investing in a factory or an enterprise. When we want the community to improve, things may not be as we have set out."
Running a business faces many challenges. However, entrepreneurs have their own solutions. Defining a clear target market is one of the JUNLEN team solutions and is why they focus on the ornamental plants market in Phnom Penh.
Production cost is also an issue as JUNLEN must price the product slightly higher to meet its costs. Delivery also causes a problem for JUNLEN to expand its market to other provinces.
Every small enterprise needs an investment partner to grow but investments are carefully considered by Sothearath to be in line with her business principles.
"If they have money or many resources, if it is not a burden, then it is a good process for us to choose. But in the context of business, there's always a problem," she added.
Sothearath is cooperating with partners growing vegetables and fruit in Siem Reap to expand her business. She also runs her own ornamental plant business.
Originally written in Khmer for ThmeyThmey, this story was translated by​ Meng Seavmey for Cambodianess.
Related Articles