WWF Warns of Bushmeat Health Dangers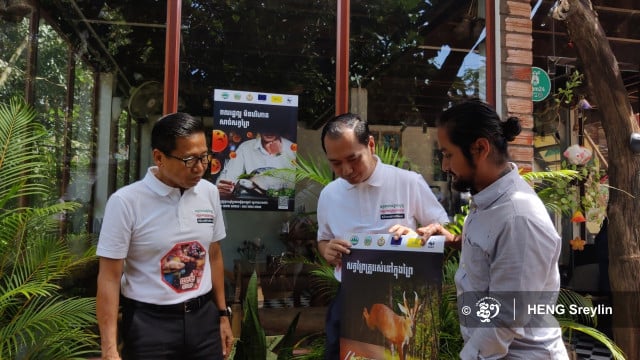 PHNOM PENH – Eating wild animals can cause deadly infections which can be more dangerous to people than COVID-19, World Wildlife Fund Cambodia (WWF) says.
Diseases such as SARS, Middle East respiratory syndrome (MERS), H1N1 swine flu, and H5N1 bird flu were caused by animal-to-human transmission.
Wild animal meat poses health risks to consumer and to others. Hunting, transporting, trafficking and processing are all risk factors for transmitting the virus to humans, WWF added.
Wildlife in Cambodia is under threat from poaching and trapping caused by the demand for meat and by the illegal wildlife trade, which is widespread in Mondulkiri and Ratanakkiri provinces.
During the launch of the Zero Trap Campaign in Mondulkiri province on Oct. 24, Neth Pheaktra, spokesman of the Ministry of Environment, said that from January 2021 to June 2022, Mondulkiri Provincial Administration cracked down on 1,353 kilograms of wildlife meat. Most of it was meat labelled in markets as muntjac, wild boar and monitor lizards, WWF reported.
In six months of 2022, Mondulkiri province seized 235 kilograms of wildlife meat.
"What we want to see is not about animals being slaughtered for sale on the market or samples being put on the market. The key to our success is to preserve the wildlife that survives in the protected areas," Pheaktra said.
A study by the Ministry of Environment and WWF Cambodia shows that between 2010 and 2022, the number of hoofed wild animal species decreased significantly in the eastern landscape of Cambodia. Of these, bantang decreased by 89 percent, muntjac decreased by 65% and wild boar by 15 percent.



Sam Sopich contributes to this story
Related Articles