Xi Announces $44 million Aid for Rail Development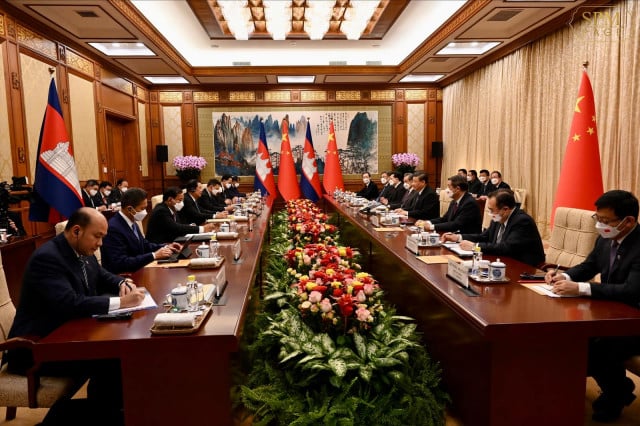 February 10, 2023 5:30 PM
PHNOM PENH – Chinese President Xi Jinping has announced $44 million in assistance for railway development in Cambodia during a meeting with Prime Minister Hun Sen.
Xi welcomed Hun Sen at Diaoyutai State Guesthouse in Beijing when they agreed to elevate ties to what they called diamond level. Hun Sen said the meeting lasted 100 minutes.
Both spoke highly of the progress in relations between the countries while vowing to continue strengthening the spirit of building a community with a shared future based on six key sectors – politics and diplomacy, manufacturing and textile, agriculture, energy, security, people-to-people relations, as well as the improvement of Cambodian health sector, a post on the PM's Facebook page said.
"On the occasion, HE Xi Jinping announced a grant aid of 300 million yuan ($44 million ) to support Cambodia's railway project," it added.
"Both sides praised the entry into force of the Cambodia-China Free Trade Agreement on January 1, 2022, which promoted the opening up of Chinese markets for Cambodian agricultural and fishery products."
Hun Sen said that Xi supported Cambodia's policy on Cambodian independence and territorial integrity. The PM later replied that the Chinese support was not only contributing to the progress of Cambodia, but also contributed to the strengthening of Cambodia's independence on the international stage.
The PM also spoke of the importance of Chinese vaccines which enabled Cambodia to save lives and open up the economy in 2021.
On Feb. 9, the PM also met representatives of three Chinese construction companies and discussed the rail projects and waterway transport in Phnom Penh, Siem Reap and the expressway from Phnom Penh to Bavet city in Svay Rieng.
Expressway construction is expected to start in mid-2023 and finish in 2027. The companies also intend to invest in the Light Rail Transit (LRT) in Siem Reap connecting the new airport in Sotr Nikum district and to study a Phnom Penh-Poipet high-speed train.
Hun Sen asked the companies to conduct feasibility studies on the construction of LRT in the capital, which is experiencing heavy traffic, and the expressway connecting Phnom Penh to the new airport which is under construction in Kandal province.
Related Articles