Yearender: Cambodia-China FTA, RCEP key driver for economic growth in post-COVID-19 era: Cambodian officials, experts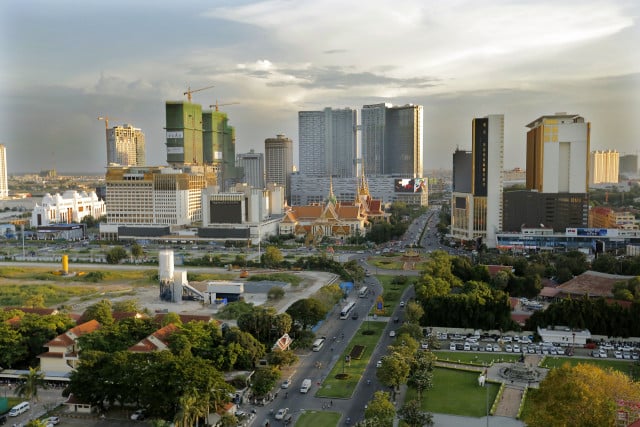 Xinhua
December 28, 2020 3:51 AM
PHNOM PENH-- The recently-signed Cambodia-China Free Trade Agreement (FTA) and the Regional Comprehensive Economic Partnership (RCEP) free trade pact will be a key driver to reboot Cambodia's economic growth in the post-COVID-19 era, Cambodian officials and experts have said.
Cambodia signed the bilateral FTA with China on Oct. 12 and the RCEP trade pact with 14 other Asia-Pacific countries on Nov. 15.
Cambodian government chief spokesman Phay Siphan said the two pacts will greatly contribute to boosting Cambodia's economy and improving the people's livelihoods when they enter into force.
"The two agreements show our unity towards a community of common destiny," he told Xinhua in an exclusive interview recently. "They will provide us greater market access with no tariff barriers."
Siphan said the two pacts truly demonstrated China's unwavering commitment to enhancing free trade and multilateralism despite the ongoing global COVID-19 pandemic.
"China has become a role model for the world in promoting free trade and multilateralism," he said.
Ministry of Commerce secretary of state and spokesman Seang Thay said through the two trade deals, the ties in economics, trade and investment between Cambodia and China as well as other RCEP countries would be further broadened.
"The two deals will undoubtedly be a new driving force to accelerate Cambodia's trade and investment volumes with these countries during the post-COVID-19 era," he told Xinhua.
They said the bilateral FTA would undeniably stimulate the speed of Cambodia's infrastructure development projects, including those under the Belt and Road Initiative (BRI).
David Freedman, the country economist for the Asian Development Bank (ADB) in Cambodia, said preferential access to key export markets has been very important for Cambodia and a key driver of its growth.
"The agreements can help to support growth by stimulating new private investment to expand and upgrade productive capacity in Cambodia, as well as provide access to new markets," he told Xinhua.
"In order to fully realize the potential from these agreements, it will be important for the government of Cambodia to continue to focus on increasing both productivity and competitiveness by modernizing logistics and ICT infrastructure, improving the business enabling environment, reducing trade costs, and supporting skills development," he added.
Kin Phea, director general of the International Relations Institute of Cambodia, said the RCEP is expected to spur foreign direct investment (FDI) to Cambodia and integrate the kingdom more fully into regional economic activity.
"RCEP is very beneficial to the kingdom," he told Xinhua. "It will be a driving force to accelerate trade volume and competitive advantage for Cambodia's FDI and will help rebuild Cambodia's economy during the post-COVID-19 era."
However, it's needed for Cambodia to strengthen its logistic system to be strong enough to compete with other RCEP members by improving product standards, tax, rules of origin, and key trade-related infrastructure, among others, he said.
ECONOMY EXPERIENCES CONTRACTION DUE TO COVID-19
Affected by the COVID-19 pandemic, Cambodia's economy in 2020 is projected to register its slowest growth since 1994.
Economy and Finance Minister Aun Pornmoniroth said the kingdom's growth would shrink by 1.9 percent this year, making the gross domestic product (GDP) value worth 27.6 billion U.S. dollars.
The Southeast Asian country's economy is mainly driven by garment and footwear exports, tourism, construction, and agriculture.
The industrial sector (mainly garment and construction) and service sector (tourism, transport and telecom, trade and real estate) were expected to contract by 2.2 percent and 3 percent, respectively this year, as agriculture was projected to slightly increase by 0.9 percent, he told a parliamentary session in late November.
Pornmoniroth, who is also a deputy prime minister, said the GDP per capita is estimated to drop to 1,683 dollars this year from 1,700 dollars last year.
Freedman said the ADB projected that Cambodia's GDP will contract by 4 percent in 2020 before bouncing back in 2021.
"The main drivers of this contraction are the large impact of the pandemic on Cambodia's garment, footwear and apparel sector, and the contraction in services output due to the collapse in international visitor arrivals," he said.
According to government figures, during the first 10 months of 2020, the country's export of garment, footwear and travel goods dropped by 9 percent to 8.21 billion U.S. dollars, while the number of foreign visitors to the kingdom fell by 76 percent to 1.26 million.
GROWTH TO BOUNCE BACK IN 2021
The economic growth is predicted to rebound by 3.5 percent next year, making the GDP value rise to 29 billion dollars, said Pornmoniroth, adding that the GDP per capita is forecast to increase to 1,771 dollars.
He said the industrial sector is expected to rebound by 4.1 percent, the service sector by 3.6 percent, and agriculture by 1.6 percent.
Freedman said the ADB forecasts better growth for Cambodia in 2021, saying that the kingdom's growth would expand by 5.9 percent.
"For Cambodia, careful lifting of travel restrictions will help to revive tourism and related services," he said. "Although the time frames for re-opening remain somewhat uncertain, the recent progress on vaccines approvals internationally is very encouraging."
In the manufacturing sector, he said the ADB is optimistic about the prospects for a continued recovery in the production of garments, footwear, and apparel, and further growth in the production of travel goods.
"We also expect the strong growth in higher-value manufacturing to continue and believe that Cambodia is well-positioned to attract additional foreign direct investment for manufacturing and we are also expected to see further growth of agricultural production," Freedman said.
There are also downside risks to the outlook in 2021, he said, adding that the recent cluster of COVID-19 cases within Cambodia is concerning and a further spread of the virus would place pressure on the economy going into 2021.
"In order to manage the downside risks and support a strong recovery, it will be important to fully address the health aspects of the pandemic, including through roll-out of vaccines," he said. "We also see an important role for fiscal policy to stimulate growth through well-targeted investment in infrastructure and human capital."
Related Articles