Yeng Chheangly: A Poet Who Speaks of Ordinary Lives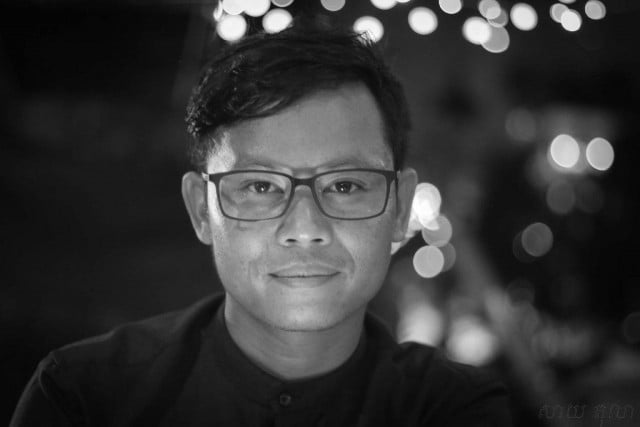 Phoung Vantha
May 2, 2020 12:10 PM
A writer's journey and the people's stories he means to tell
PHNOM PENH--A Cambodian poet, Yeng Chheangly says he cannot support himself financially with poetry, but he cannot give it up either. In addition to having a passion for writing about what surrounds him, poetry has given him the opportunity to let other countries know about Cambodia and also to travel abroad, he said. So he works fulltime for a private company in Phnom Penh and keeps on writing.
Chheangly was born in 1988 in Kandal province near Phnom Penh. His parents were among the people who were ordered to marry during the Khmer Rouge regime, often meeting their spouses for the first time at the wedding ceremony.

The years that followed the Pol Pot's regime were harsh. Not only did people have to recover from years of starvation and the genocide, missing all those who had been killed, but there was nothing to eat. "After that genocide period, the only thing that my parent experienced was starvation," Chheangly said.

The country's whole infrastructure and institutions had to be rebuilt during the 1980s. To attend the public schools that were reopening, a fee had to accompany the school's registration form. "For many children from poor families, it was a challenge and some children never got an education," Chheangly said. "I was the lucky son who could attend free school after those hard times," he said.

In 2004, he started secondary school, rushing to his village pagoda every day at lunchtime to attend the free literature class offered there. In that class, he learned about Khmer poetry, rhythms to follow, repetition that becomes part of a poem's structure.

In 2012, he moved to Phnom Penh to study at university. He graduated in late 2018 with a bachelor's degree in management.
Yeng Chheangly takes part in a group photo after reading his poems at the Futures Factory last December in Phnom Penh. Photo: Phoung Vantha/Thmey Thmey
Poetry and Society

Most of Chheangly's poems speak of society, the environment and life's experiences, he said. Nature is used to express life's sorrow and beauty as it reflects situations so well at specific times, he said.

"I've seen so many lives of the poor whom I call the grassroots," Chheangly said. "They live a harsher life than my own: poor and uneducated. I saw some women working on building construction sites who were trying to breastfeed their babies [who were] in a pallid state. I felt they had no milk for those innocent kids. I then wrote about [their] lives in the [poetry] form of Kakate—this form was also found in the Angkorian era."
Poem entitled "A Woman" by Yeng Chheangly

"I saw her

In a dirty face,

She carried,

Many bricks on her shoulder,

To a builder

For a building construction

Modern and high.
With her ragged clothes

Under the hot sun,

Her skin is burning,

And too skinny

She goes up and comes down,

Her appearance burns her beauty,

Without rest.

She keeps working,

With her hard work,

She seems alone,

Where her husband is,

Just only her baby

Crying for the breast milk."

Chheangly said that he keeps on searching what it means to be a poet, how his writing can heal his sorrows, leaving them for the next generation who will not have experienced this era.

"I wish to bring out the facts [as to how] people live," he said. "Like at sites under construction or how they work at garbage piles at night, collecting things in exchange for food. I want to present their voice, hoping that people in my society and community will hear and raise awareness."

Poem entitled "Strobe Light" by Yeng Chheangly

Awesome! This night club in the city

Its strobe light brightly flashing

Light swirling everywhere,

Shimmering in all colours.

Bright light permeates,

All corners illuminated,

Tonight, happiness fills this club,

Fears and worries, dissipated.

Colorful light fills the inside,

Outside, pitch-black darkness,

Hungry lives walking, exploring,

Without the same clarifying light.

Achievements and participation at international events

In 2013, two of Chheangly's award-winning poems were included in a collection published in the Nou Hach Literary Journal, volume 7, by the Nou Hach Literary Association.

In 2015, his poem "Strobe Light and Recycle Collector" was published in a collection on "Modern Literature of Cambodia" edited by Teri Shaffer Yamada.

In 2016, he compiled and published a collection of award-winning poetry picked from the Nou Hach Literary Journal titled "As in the Shadow" and featuring the work of five poets. Also in 2016, his short story entitled "Study—Eye at Neck" was selected and published in Vitheavy 2016 by Kampu-Mera edition.

In 2017, Chheangly's historical short story entitled "For What?" and his poem "Strobe Light" appeared in an Asean anthology entitled "Perjuangan Bangsa Dalam Puisi Dan Syair Asean" and published by the Institute of Book and Translation of Malaysia.

Last year, 10 of Chheangly's poems were selected by the Raza Foundation and published in a collection for the Biennale of Asian Poetry held in New Delhi in India. And also last year, the anthology "Perjuangan Bangsa Dalam Puisi Dan Syair Asean" featuring academic essays and poems written by Asean writers and poets—including his—under the theme of "struggle of the nation" was published.

Chheangly has taken part in international literary events, including the Salzburg Global Seminar for Young Cultural Innovator held in Austria in 2016; Singapore All in Young Writer Festival in 2017; the Asean KL-DiverCity Arts Festival in Kuala Lumpur in 2017; the Brahmaputra Literary Festival and the Biennale of Asian Poetry in India last year.
"For me as one of the grassroots—and I know how to write a poem—it is very important to capture reality with honesty and paint it with my words," Chheangly said. "I believe the sorrow and beauty in people who can't speak can be spoken out through poetry."
Related Articles