'You'll Fail', PM Tells UN Protest Organizers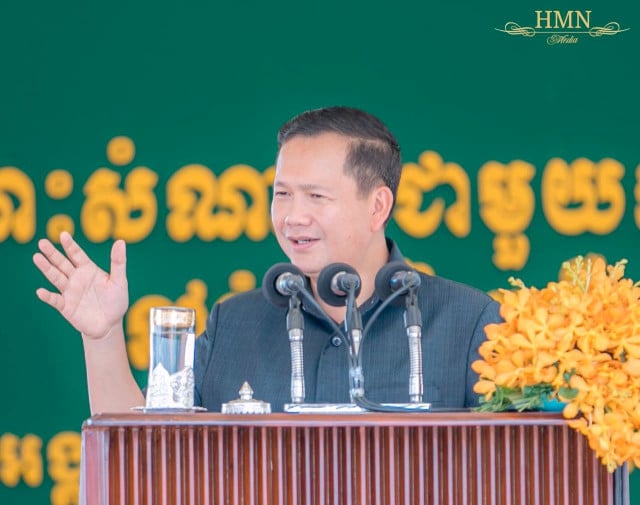 PHNOM PENH – Prime Minister Hun Manet has warned opposition groups in the United States who are urging the U.N. not to recognize his government that they will fail.
Activists and political leaders from the opposition who live on American soil have begun to publicize a planned demonstration against the newly-appointed PM Hun Manet when he attends the U.N. General Assembly in New York on Sept. 22, in which he plans to meet the organization's Secretary-General Antonio Guterres.
"Peaceful rally. United Nations must not recognize Hun Manet as Cambodia's legitimate representative," reads a banner shared on the social networks of U.S.-based opposition activists, including Mu Sochua, the former vice-president of the court-dissolved Cambodian National Rescue Party (CNRP). The post goes with the hashtags #nohunregime and #nohunmanet.
While speaking to factory workers on Aug. 29, in Phnom Penh's Por Sen Chey district, Hun Manet said that his stay in the U.S. will also attract Cambodians from the diaspora who support him, and called on opposition supporters to respect their rights.
"Don't quarrel or fight between Cambodians and Cambodians on American soil," he said.
Former CNRP lawmaker Um Sam An, who lives in exile in the U.S., said that overseas Cambodians will demand that the U.N. doesn't recognize what he called "an illegal government that resulted from rigged elections."
On Aug. 28, Hun Manet met with several State representatives in Cambodia, including U.S. Ambassador to Cambodia Patrick Murphy or outgoing EU Representative Carmen Moreno.
"They met me at the Peace Palace and addressed me as the Prime Minister. They also showed the will to cooperate with the new government," he pointed out when speaking to factory workers to emphasize that they were recognizing his position and cabinet.
In a letter dated Aug. 25, European Commission President Ursula Von der Leyen congratulated Hun Manet on his appointment as PM.
"I look forward to working together with you and your administration to achieve the full potential of trade, investment and growth for both the European Union and Cambodia;" Von der Leyen wrote.
Despite giving credit to Hun Manet as the country's new leader, Western nations have largely criticized the electoral process, which was deemed as "neither free nor fair", as stated by the U.S. Department of State, after the Candlelight party, the country's main opposition party, was barred from running in the polls.
Related Articles