Young Cambodians Raise Money for a Children's Hospital through a Motorbike Wash Event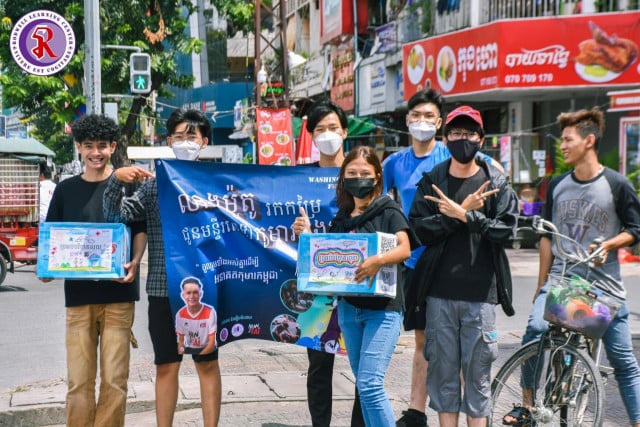 Phnom Penh — A group of young people ran a motorcycle wash event on Oct. 29 to raise money for the Angkor Hospital for Children in Siem Reap city.
Around 100 young people volunteered to take part in the campaign whose goal was to raise $1,000 or more for the hospital that offers free medical care for children.
During the whole day, some of the volunteers stood on street corners in Phnom Penh to invite people to have their motorcycles washed. But most of the volunteers worked on washing and cleaning the bikes, leaving it to people to donate whatever amount they wished to contribute.
Thay Sokthavann, the facilitator and organizer of the group, said that they organized this fundraising activity to make young people aware that they must give back to society, to their families and to people in need, which raising money for a children hospital does.
"Contributing to society is not necessarily doing big things," he said. "It starts with small steps, like washing a motorbike so we can raise money to help society."
Sokchea Chihor was among the volunteers at the event. As the 18-year-old young woman explained, she was happy to volunteer time and energy to raise funds for the hospital.
"I was very happy to help Angkor Hospital for Children, and my family also encouraged me to join." she said, "I'm just a student and I don't have much capacity to help our society. So doing something physically, no matter how small, I am happy to do."
Sout Lykuoyhay, a 17-year-old student who took part in the event, said he was really excited to be able to participate in the fundraising effort for the hospital. "I want to see children smile, so I get involved and contribute to society as much as possible. Although we do this for free, it is a source of strength for us​ to help," he said. Lykuoyhay's volunteering also inspired his legal guardians who made a donation to support the hospital during the motorcycle-washing event.
This group of young volunteers have held fundraising events nine times since 2017 and raised money for hospitals such as the Angkor Children's Hospital and the Kantha Bopha Children's Hospital.
Sam Sopich contributed to this story.
Related Articles