Young Get a Window into Nature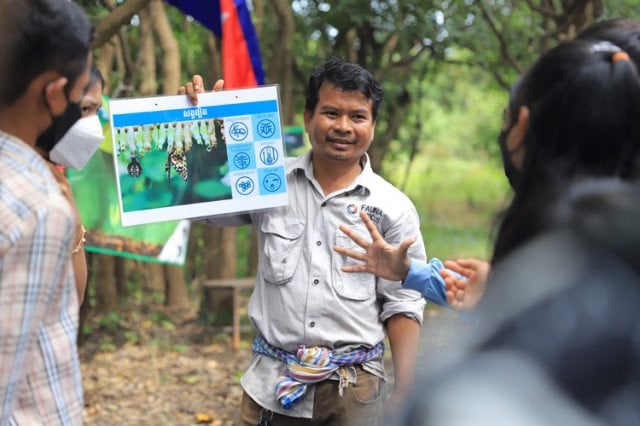 Fauna in Focus raises conservation awareness
SIEM REAP – For seven years, Chea Samban has been working to raise awareness of wildlife and natural resources among young people.
He wants to pass on his love of wildlife, biodiversity and conservation to the next generation.
As the president of Fauna in Focus Cambodia, Samban said his goal is to attract young people to the field of conservation because their engagement in the subject has fallen away as they study other skills.
Fauna in Focus Cambodia was established in 2016 with three main goals: education, documentary production on wildlife, and a museum of wildlife.
He and his team teach groups of 40 high school and university students from Siem Reap and Kampong Thom on the importance of biodiversity and the conservation of wildlife and natural resources.
The latest Siem Reap Biodiversity Education Youth Program tour took place from May 27 to 29 to Pea Reang Lake, a freshwater catchment area, and Phnom Kulen, a major rainfall attraction and water source for Siem Reap.
He prefers to teach his students outside the classroom, exposing them to the real environment where the birds live, such as Boeung Perang, so that they can feel more connected.
"The main purpose is for them to understand what a flooded forest or rainforest is and what are the difficulties in conservation to protect those natural resources," Samban said.
It is important to educate young people before teaching them to love natural resources. "Prior to protection and conservation, the main thing to do is for them to start learning first. Once they understand, they will come to love it and protect it."
Chheng Sok Vouen is one of the youth volunteers at the organization after learning about it in high school.
After working there for a while, Voeun said she began to change her mind and understand that this work is important and young people should be involved in preserving and protecting biodiversity.
"Young people have new ideas that can help protect those resources in a sustainable way," she said.
"In the past, I understood very little about the environment, deforestation, wild meat consumption and littering, later realizing that forests are important for supporting life on Earth and litter is affecting the planet.
"Now I tell my neighbors not to hunt wildlife for meat because it has a life and we have to protect it for our next generation to know."
Fauna in Focus Cambodia also conducts training in Battambang, Kampong Thom and Kampong Cham.
Due to COVID-19, some of the organization's activities have been suspended, with only education remaining.
Related Articles