Young Hold Cambodia's Future in Their Hands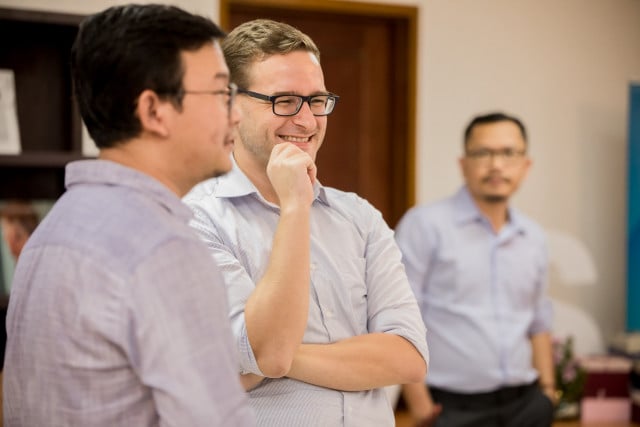 December 25, 2021 6:42 PM
German foundation urges open dialogue
Konrad-Adenauer-Stiftung Cambodia has been operating in Cambodia since 1994 to support development in sectors from law to environmental governance. Cambodianess's Sao Phal Niseiy speaks to its country director about the organization's plans and challenges.
Sao Phal Niseiy: First of all, could you share with us Konrad-Adenauer-Stiftung Cambodia' s priorities for 2022?
Daniel Schmücking: Our main mission is to create an open dialogue about the future of Cambodia. We do this with publications and events in many fields from international relations to sustainability, from digitalization to the rule of law, from journalism to youth empowerment. Our approach is to inspire and not to preach. We have been doing this in the Kingdom since 1994 and will continue to do so in 2022 and beyond.
Sao Phal Niseiy: What do you think is increasingly challenging for Cambodia's development?
Daniel Schmücking: I personally believe that we need more platforms for open dialogue. If we learn to debate with each other respectfully, it will lead to better decision-making overall.
Sao Phal Niseiy: Speaking of your organization's mission, it has been actively supporting Cambodia's democratization and the rule of law for 27 years. What is your assessment of the country's state of democracy?
Daniel Schmücking: The journey to a fully democratic society can be rough and bumpy; different countries experience varying challenges and phases along their way. Since the signing of the Paris Peace Agreements, high expectations were imposed on Cambodia by the signatories. Today we see that Cambodia as a young country could not fulfill these expectations. It has been taking longer than anticipated to build a democracy in the Kingdom. However, on the positive side and compared with other countries in the region, we see that Cambodia is more open to discussion and dialogue and shows its willingness to work and cooperate with different inter-government agencies, institutions and organizations. But there is still a long way to go on the road towards democracy.
Sao Phal Niseiy: KAS has apparently increased support for publication and research involving contributions from youth and young scholars over the past few years. Why does KAS prioritize this?
Daniel Schmücking: The Kingdom's youth is its most valuable asset. We intend to bring out the best qualities in them and help them prepare for their future roles in contributing to the development of Cambodia. This aligns with our main goal of empowering young Cambodians and helping them contribute to their society's future.


Sao Phal Niseiy: KAS has also been promoting press freedom and journalism in Cambodia. What do you see continuing to be the main challenges facing journalists in Cambodia?
Daniel Schmücking: What is lacking in Cambodia is high-quality journalism following international standards. Independent journalism plays an important role in a well-functioning democratic society and provides people with high-quality information, allowing them to make informed decisions. We want to see more Cambodian journalists improving their skills. I would like to see more Cambodians writing for the New York Times, for instance. I want to see Cambodian news outlets competing with the quality of the Economist. We need to aim high if we want to be successful.
Sao Phal Niseiy: What will your organization plan to do more to help address these challenges and support capacity-building among our journalists?
Daniel Schmücking: We work hard to improve the quality of education for media practitioners and journalists. Together with our partner, the Department of Media and Communication (DMC) at the Royal University of Phnom Penh, we have trained a number of outstanding journalists who now work for some of the most renowned international publications. We are currently building a partnership with a university in Germany to set up a master's degree for media studies at the DMC to facilitate high-quality training for journalists in Cambodia. On top of that, KAS Cambodia also engages with media students and practicing journalists through a variety of formats, for example, our KAS Journalism Workshop, internships abroad, the KAS Young Journalist Traineeship Program and much more.
Sao Phal Niseiy: KAS creates various platforms to foster Cambodian youth engagement and empowerment, all of which enable them to contribute to the country's sustainable development. How do you view Cambodian youth's current involvement in social development?
Daniel Schmücking: More and more young Cambodians are becoming interested in understanding and participating in social development, which is very important for the development of Cambodia. In the past years, we have been supporting many youth-led campaigns and projects across the country, attempting to address pressing issues the Kingdom faces. A good example is Politikoffee, a public debate platform that a group of Cambodian youth initiated. They organized many interesting public debates on Cambodian politics.
Sao Phal Niseiy: What do you think Cambodian youth can do more to chart the future of their country's development?
Daniel Schmücking: I personally think that young Cambodians should become more outspoken in raising concerns that matter to them. They are the country's future, and they need to speak out and work toward what they believe is best for them and the nation.
Related Articles