Young Share ASEAN Dialogue Experiences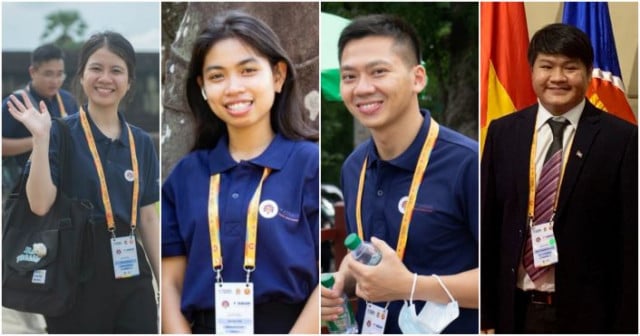 PHNOM PENH – Five young Cambodians attended the 1st ASEAN Youth Dialogue in Siem Reap. Four of them have spoken about their experiences and what they got out of the two-day event.
The Youth Dialogue was held in Siem Reap on July 26 and 27 under the theme "Youth in the Era of Fourth Industrial Revolution: Opportunities and Challenges in Post-Pandemic Recovery".
Delegates from ten ASEAN member states and South Korea discussed issues ranging from governance, science, technology and innovation, job creation for the future, infrastructure and connectivity, inclusive growth, climate change, bridging the ASEAN development gap to country-to-country exchange.
Teng Chankaruratha, head of the Cambodian youth delegation, said he had discussed science, technology and innovation issues with young people from ASEAN countries which connected them with the Fourth Industrial Revolution.
According to Chankaruratha, this dialogue is an opportunity for young Cambodians to share and understand the problems they face and offer solutions to topics being discussed.
"We raised a number of key goals after in-depth discussions by team members through advancing science and technology and strengthening implementation. We then would submit them to the government for consideration," Chankaruratha said.
Chankaruratha also learned a lot from his peers from ASEAN countries through communication, brainstorming ideas and mutual learning.
"It was an event to share culture and knowledge because culture is one of the main parts of ASEAN's pillars and I want other young people to be brave as well as strengthen themselves," he added.
Pen Sreykeo, a Cambodian delegate from Southeast Asia University, participated in group discussions on climate change with her peers from Indonesia, Singapore, Myanmar and South Korea. Sreykeo said the group exchanged views on the consequences and impact across the world.
"We have made a number of proposals, urging the government to pay more attention and support to seedlings and planting more trees and establish associations to oversee factories that violate environmental principles such as excessive pollution," Sreykeo said.
"My group has asked the government to include the subject of weather in the curriculum, even though we now have an earth science subject. The younger generation should study and understand more. The construction of factories must be based on the right principles, and those factories should go through quality assessment to avoid any impact on the environment and climate change."
Like Chankaruratha, Sreykeo took part in the dialogue for the first time. To Sreykeo, this regional forum is the answer to her curiosity to understand more about ASEAN, finding solutions to problems and gaining new experiences for future learning. "It is also a strong connection among nations," she said.
Participant Chhuon Vanda Sambath said, "What I am interested in this program is because this year is the year of ASEAN youth.
"So what can I do to become a resourceful youth for Cambodia?" he said, adding that the program provides an opportunity for him and young people around ASEAN to discuss and find solutions to challenges.
During the forum, Vanda Sambath and group members addressed governance issues. The 23-year-old graduate said his team highlighted the weaknesses of governance in the ASEAN region and how to find ways for a well-developed ASEAN society with the development of Industry 4.0.
Sambath said digital governance, increasing the opportunities for young people to be involved in decision-making and policies through digital systems accelerate the capacity and opportunities of young people to create a society that evolves over time.
Vanda Sambath said he had developed close friendship and established good relations with young people from other countries. Sambath, who works as a researcher at the Cambodian Institute for Cooperation and Peace, also urged young Cambodians to give themself more opportunities, especially those who are embarking on a long journey in the context of the Industrial Revolution 4.0.
Tov Ching Sorng, a student of International Relations at Pannasastra University of Cambodia, took part in a group discussion on future careers.
She said her group has reached conclusions on a number of policies to advise the government on the topic of future work. Her team suggested that educational institutions should incorporate knowledge related to the evolution of the digital age and provide adequate electronic devices for students to practice.
Sorng said this gives the next generation of Cambodian children a new context and to be ready to work in the 4.0 era.
"What I got from this engagement was more than I expected. Even though it was only three days of meetings, I think I could not forget this wonderful memory. I was proud to be involved in solving global problems, and I can have more ASEAN friends as well," she said.
Sharing her knowledge in the ASEAN Youth Dialogue enabled her to develop herself, promote her country's image and by solving issues together, lead everyone towards progress and leadership as youth.
To take part in the dialogue, applicants had to apply online and answer questionnaires before having an online interview. Candidates needed a broad understanding of ASEAN, problems and solutions on the topics.
Originally written in Khmer for ThmeyThmey, this story was translated by Torn Chanritheara for Cambodianess.
Related Articles