Young Women Want a Harassment-Free Workplace: UK Ambassador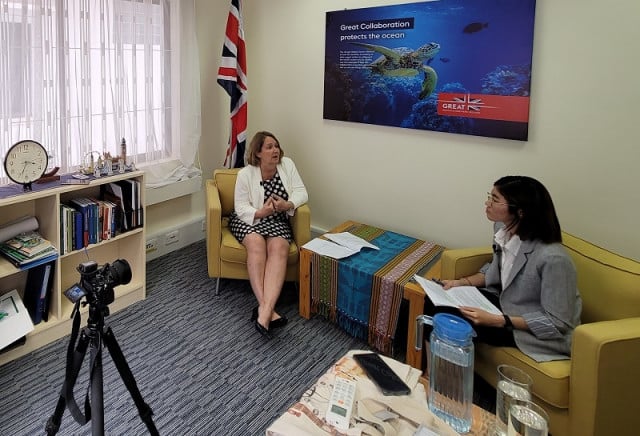 PHNOM PENH – Young Cambodian women desire being employed in an environment free from any form of harassment and unequal treatments benefiting men, said Tina Redshaw, the British ambassador to Cambodia, calling on her successor to continue her women empowerment endeavor after she leaves office later in 2022.
Redshaw is the first female British ambassador to Cambodia and began her tenure in 2018. During her duty, she mainly focused on women empowerment and gender equality projects. She said she had met and worked with many young promising Cambodian females from an impressive variety of backgrounds, from young female entrepreneurs who just started their career journey, to students.
"I think we have a strong focus on gender equality and women empowerment, and that's been very important for me, personally, as the first British female ambassador here," she told Cambodianess in an interview on Aug.17.
Along her journey in promoting gender equality in Cambodia, Redshaw discovered that many young women don't want to work in a workplace where they feel harassed or unequal to men. "It's clear to me that young women are conscious about the discrimination and difficulty that they face and want to find a way of getting over that," Redshaw said.
One of the actions she took was to organize a competition to find women able to serve as her day-long ambassador. The few selected ones got the chance to be assigned as an ambassador for one day, shadowing what the ambassador was doing. Unfortunately, because of COVID-19, it could only happen twice during her mandate.
Seng Reasey, executive director of Silaka, a local NGO dedicated to promoting equality, said harassment in the workplace is of utmost importance and has to be widely discussed. Yet, some people treat the issue as normal and unnecessary, thinking that sarcastic words or statements toward females are only normal jokes that are used to create a fun atmosphere. But it is considered harassment if it affects someone's emotions and causes discomfort, she said.
"Through the course of our work, we have seen that many women working in factories or having an office job are victims of harassment in the workplace," Reasy said.
Harassment is not only about using sarcastic or sexual connotations but also comprises facial expressions, gestures, making fun of the women's appearance, intention to hurt their feelings, and sending sexual videos or pictures, Reasy raised. "Being promoted in the hierarchy or getting a raise through sexual favours are also forms of harassment," she pointed out.
Men also face harassment, but the level of challenges is lighter than that women have to endure.
How to tackle harassment?
To address that issue, harassment must be treated or viewed as a problem so that people would pay attention to and tackle it. Also, the public must understand harassment in the workplace in its different forms to avoid unintentionally committing it, she said.
Having a particular policy to address harassment in the workplace is a must. It should include the investigation, lawsuit, the assurance of the victim's privacy, or steps to address the problem, Reasy said. If the case of harassment cannot be solved in the policy framework of some workplaces, the case must be sent to court.
"I think that although harassment cases should be handled at the organization level, there must be a law or a government policy to further protect them to ensure that the victims, when experiencing such things, feel warm and included as they are protected under the law."
Sexual harassment is a crime under the Criminal Code, with penalties ranging from six days to three months in prison and fines ranging from 100,000 to 500,000 riels (about $25 to $125). But despite punishment being law, it doesn't encompass the variety of harassment women can suffer from in the workplace.
Reasy emphasized that in addition to dedicating a law to harassment, it is paramount to stop the victim-blaming culture. "I believe in laws and justice, so if we approach the problem truthfully and accurately, the victims, as well as the perpetrators, will receive a fair trial," she said.
British ambassador Redshaw added that to ensure that women are treated equally to men and do not experience additional hardships or burdens in the workplace, educating young men and women about their rights is crucial.
Being posted in Cambodia for four years, Redshaw saw that the gender equality situation in the country is improving, with men starting to respect and acknowledge women's capabilities at work.
"I think among the younger generation people do treat each other much more equally. There are young men who are working as allies with young women. I think it's improving. Women are being promoted to higher positions," said the ambassador.
Hoping to see more women being exposed to the opportunity and tackle gender equality, ambassador Redshaw said she will confer with her successor, Dominic Williams, on the promotion of gender equality, equality and inclusion in education, at work, or in any aspects of the society.
"Young people I met are very hungry for knowledge and learning. Many Cambodians have chosen to go to the UK to study," she said.
In a study conducted in 2017 by Care International in garment factories, 28.6 percent of the interviewed women reported to experience sexual harassment at work, and 16.5 percent told they experienced it even outside the workplace.
In addition, 67 percent of the women who responded to the study said that the threats to their safety prevent them from engaging in social or recreational activities.
Related Articles