Zelensky, on Bucha anniversary, vows to defeat 'Russian evil'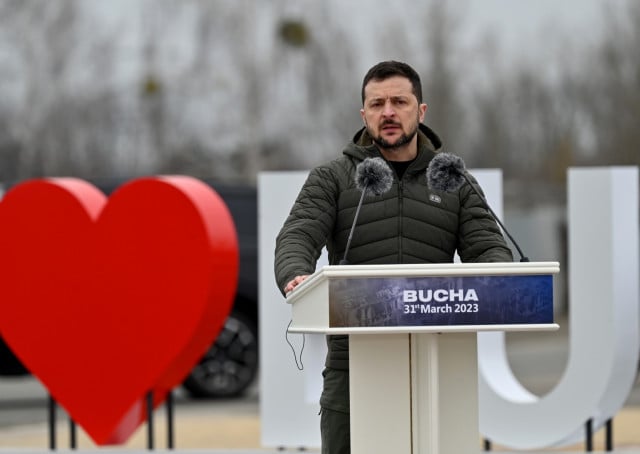 Bucha, Ukraine -- President Volodymyr Zelensky vowed Friday to defeat Russia, speaking alongside European leaders in Bucha one year after Moscow's troops withdrew from the Ukrainian town that has become synonymous with war crimes allegations.
Russian President Vladimir Putin meanwhile unveiled a new foreign policy doctrine in which the West poses an "existential" threat to Moscow and the Kremlin lies at the centre of a broader Russian civilisation.
And in Geneva, UN rights chief Volker Turk warned Russia's war in Ukraine had made severe rights violations "shockingly routine" and was distracting humanity from battling existential threats to its survival.
Russian forces withdrew from Bucha, a commuter town northwest of Kyiv, on March 31, 2022 -- just over a month after Putin ordered his troops to invade Ukraine -- and left a trail of death and destruction in their wake.
AFP journalists on April 2 last year discovered the bodies of at least 20 people in civilian clothing, some with their hands tied behind their backs, lying in a street of the suburb.
"The battle for the foundation of the free world is taking place on Ukrainian land. We will definitely win. Russian evil will fall, right here in Ukraine," Zelensky said in the town.
He later called during a summit in Kyiv for Bucha to become a "symbol of justice" and said: "We want every Russian murderer, executioner, terrorist to be held responsible for every crime".
- War crimes accusations -
Ukraine and its Western allies have accused Russian troops of carrying out war crimes, pointing to extensive footage and witness accounts.
Prosecutors in Kyiv say that Russian forces killed some 1,400 civilians around Bucha and that they have identified dozens of Russian soldiers responsible.
Moscow has claimed atrocities carried out in Bucha were staged.
Leaders from Croatia, Slovakia and Slovenia were also in Bucha and Moldova's President Maia Sandu said those responsible should be held accountable.
"Without justice there can never be peace," she said in Bucha.
After Russia withdrew from the towns near Kyiv, fighting shifted to the south and east of Ukraine. The town of Bakhmut is now the scene of the longest and bloodiest battle since the invasion.
- New Russian strategy -
In the weeks following Russia's withdrawal from other towns near Kyiv, hundreds more bodies were found in homes, basements and shallow graves across the north.
Ukraine wants to establish a special tribunal to prosecute Russia's leaders but there are complex legal disputes over how it could work. Chief ICC Prosecutor Karim Khan has described Ukraine as a "crime scene".
Russia has repeatedly denied any abuses by its forces, and foreign ministry spokeswoman Maria Zakharova this week described scenes in Bucha as a "crude and cynical provocation".
In Moscow, Putin signed off on a new foreign policy strategy aimed at countering the West's global "dominance" and naming China and India as key partners in future.
The document also described Russia as a "state-civilisation" tasked with defending what it called the "Russian world".
The concept of a "Russian world" is used by Russia to justify its actions in Ukraine with claims that it is defending the country's Russian-speaking minority.
- Ensuring survival -
Belarus strongman leader Alexander Lukashenko, who is a close ally of the Kremlin, urged Moscow and Kyiv to stop fighting and start peace talks.
"All territorial, reconstruction, security and other issues can and should be settled at the negotiation table, without preconditions," he said, but the proposal was immediately rejected by Moscow.
Lukashenko also said he was ready to host "strategic" Russian nuclear weapons after Putin announced plans to station tactical nuclear weapons in the ex-Soviet country -- a plan that drew Western expressions of concern at the UN Security Council on Friday.
Speaking before the UN Human Rights Council in Geneva, Turk denounced horrific abuses carried out since Russia's invasion and warned the conflict "continues to send shockwaves across the world."
"At a time when humanity faces overwhelming existential challenges, this destructive war is tugging us away from the work of building solutions, the work of ensuring our survival," Turk said.
© Agence France-Presse
Related Articles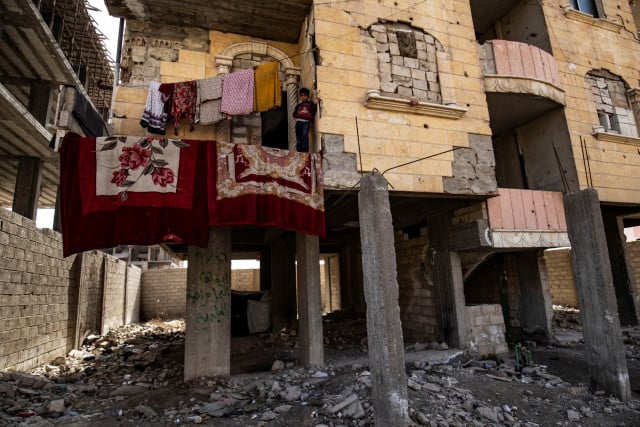 September 26, 2023 10:59 AM