Zelensky Seeks Diplomatic, Military Support in Hiroshima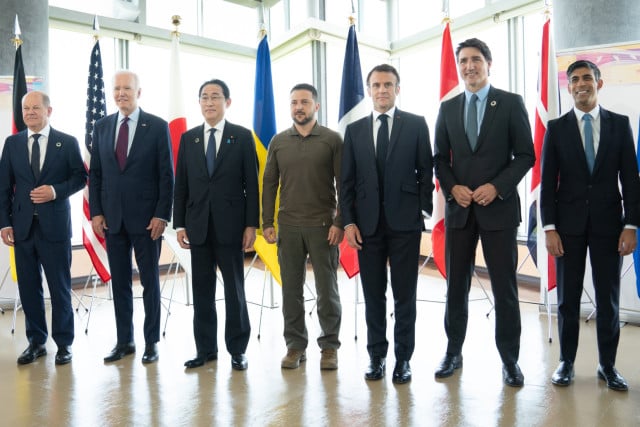 Hiroshima, Japan -- Ukrainian President Volodymyr Zelensky will plead for diplomatic and military support in Hiroshima Sunday as he addresses G7 allies and a few nations who have pointedly declined to condemn Russia's invasion.
In a surprise trip to a city synonymous with the horror of nuclear war, Zelensky began his day huddling with G7 leaders.
Later he will address assembled leaders from India, Brazil, Vietnam and Indonesia and is expected to give a speech to rally support for Ukraine's defence against Moscow's 15-month onslaught.
His appearance at the G7 summit has firmly shifted the spotlight onto Russia's aggression, and comes after a victory in his long-running campaign to win US backing for the supply of American-made advanced fighter jets.
Zelensky bounded down the stairs from a French government plane on Saturday and began a punishing schedule of talks, meeting leaders from Europe, India, Indonesia and Canada over several hours.
While Zelensky is assured the support of long-standing G7 backers, he is on shakier ground with others in Hiroshima, including Brazil's President Luiz Inacio Lula da Silva, who has accused the West of "encouraging the war" and is yet to confirm he will even meet his Ukrainian counterpart.
The reception was warmer from India's Prime Minister Narendra Modi, who told Zelensky: "I understand your pain and the pain of Ukrainian citizens very well."
"I can assure you that to resolve this India and, me personally, will do whatever we can do."
Zelensky offered an upbeat assessment of the encounter, saying he believed India "will participate in the restoration of the rules-based international order that all free nations clearly need."
French President Emmanuel Macron praised the trip as "a way to build peace," calling it an "honour" to have supplied the plane that carried the Ukrainian leader to Hiroshima.
Zelensky is looking for support for a ten-point peace plan, centred on the demand that Russia retreat from Ukrainian territory.
German Chancellor Olaf Scholz said the message from Ukraine and its allies was clear: "Russia must withdraw troops".
Any peace plan, he said, "can't simply be linked to a freeze of the conflict."
"Russia should not bet that if it holds out long enough, it will end up weakening support for Ukraine."
- Biden, Zelensky talks -
Zelensky had previously been scheduled to attend the G7 summit remotely, but arrived on the back of a major breakthrough in his battle to wrest advanced weaponry from the West.
The White House dropped its longstanding reluctance to allow allies to supply Kyiv with F-16 fighter jets, opening the way for Ukraine to receive its most sophisticated material yet.
Washington insisted the aircraft were part of a US strategy to support Ukraine "in a way that avoids World War III," and deflected criticism that their decision was too long coming.
Zelensky acknowledged the jets would not help the war effort immediately, but hailed the decision as "a great result".
"It really will help our society, our people to save houses, families."
Mick Ryan, a strategist and retired Australian major general, called the decision "very significant".
"F-16s have the sensors and weapon systems that are either equal to, or overmatch, Russian fighters," he told AFP, saying the jets would make life "more difficult" for Russian missile-launching aircraft operating in and around Ukraine.
Zelensky meets Biden later Sunday, though the White House has declined to confirm US media reports it could announce a new package of weapons for Ukraine.
While Ukraine has dominated the summit, the leaders have also taken aim at China, with a thinly veiled statement denouncing efforts to "weaponise" trade and supply chains, and warning they would "fail and face consequences".
The grouping also warned China against its "militarisation" in the South China Sea and urged Beijing to press Russia to end its invasion of Ukraine.
It insisted however that it still seeks "constructive and stable relations" with China.
China hit back late Saturday, expressing its "strong dissatisfaction" with the G7's final communique, and Russia too lashed out at the group.
"Look at the decisions discussed and taken today at the G7 summit in Hiroshima, which aim to contain both Russia and China," Moscow's top diplomat Sergei Lavrov said.
© Agence France-Presse
Related Articles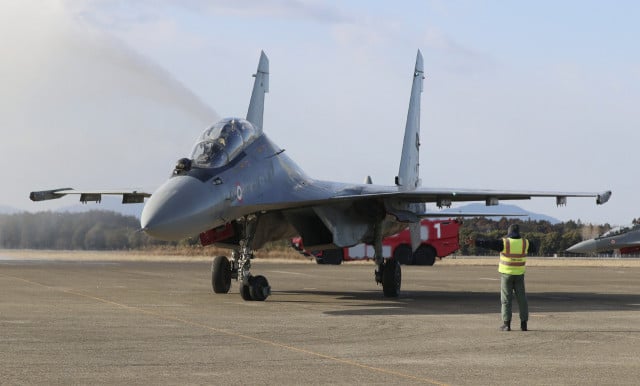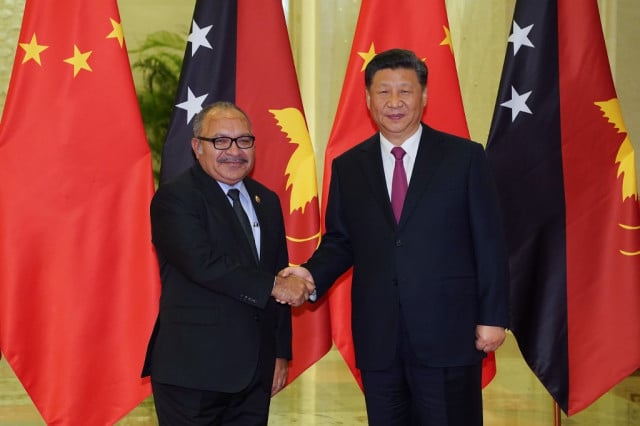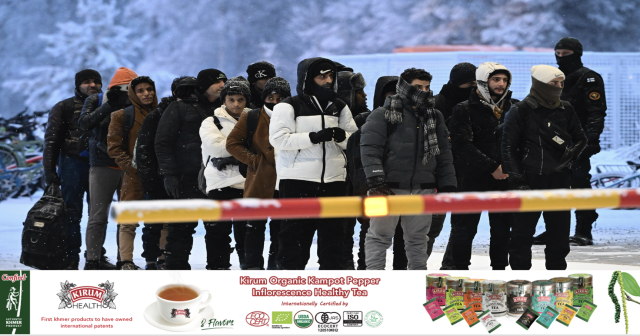 November 26, 2023 1:27 PM