20 international companies air concerns with Hun Sen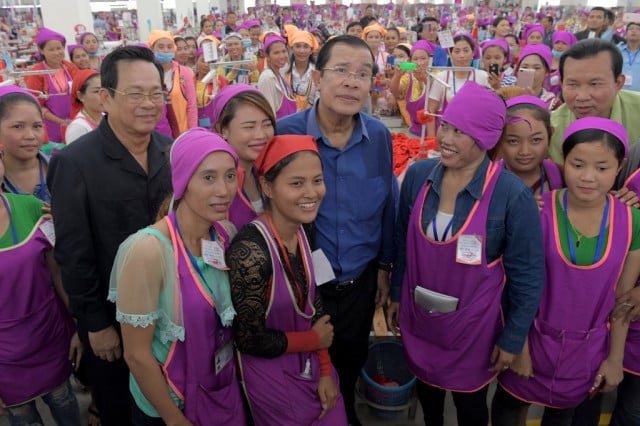 Thmey Thmey
May 5, 2019 7:17 AM
Letter from American Apparel and Footwear Association calls for November recommendations to be implemented to keep Cambodia's trade benefits in place
Phnom Penh, Cambodia--Twenty companies sourcing clothing, footwear and travel goods from Cambodia have urged Prime Minister Hun Sen to implement recommendations made in November.

"We are concerned that the labor and human rights situation in Cambodia is posing a risk to trade preferences," they said in a letter from the American Apparel and Footwear Association dated May 2.
The letter referred to the EU's review of trade benefits for Cambodia and a similar review proposed by members of the US congress "based on the declining respect for labor standards, including freedom of association, and other issues related to respect for human rights."
Many signatories to the letter "previously raised these concerns through multiple channels with your government," the association said.
It referred to a November 1 letter with recommendations that could "demonstrate real progress toward respecting trade unions and civil society, and keeping Cambodia's trade benefits in place" if implemented.
Suggested labor reforms
The letter — sent to the Ministry of Commerce, the Ministry of Labor and Vocational Training and the Ministry of Economy and Finance — called for Arbitration Council reforms and changes to trade union and minimum wage laws. Other recommendations involved meeting international standards, promptly resolving legal cases and creating "space" for civil society.
"We have not received any response to that letter," the association said. "We look forward to hearing back from you and working with you to ensure a bright future for Cambodia's workers and the Cambodian economy overall."
The letter said the work of the 20 companies with suppliers in Cambodia contributed to $9.5 billion in garment, footwear and travel goods exports last year.
Exports from these three sectors now account for 43 percent of Cambodia's gross domestic product (GDP) and half of the country's exports, the association said.
Trade benefits 'important factor' in sourcing
Preferential trade benefits offered to Cambodia by Europe, Canada, and the United States are "an important factor in many company's sourcing decisions," it said.
The 20 companies were identified as Adidas, Callaway Golf, Canadian Tire Corp Ltd, Esprit Holdings Ltd, Fruit of the Loom, Gap Inc, HEMA BV, KiK Textilien & Non‐Food GmbH, Levi Strauss & Co, Mountain Equipment Coop, New Balance, Nike, Odlo International, O'Neill, PVH, Under Armour, VAUDE, VF Corp, WE and WL Gore & Associates GmbH.
Late last month, Prime Minister Hun Sen said China promised to help Cambodia deal with possible removal of trade privileges granted by European Union following his meetings with Chinese leaders.
Related Articles