71 eggs of rare Royal Turtle laid in captivity in SW Cambodia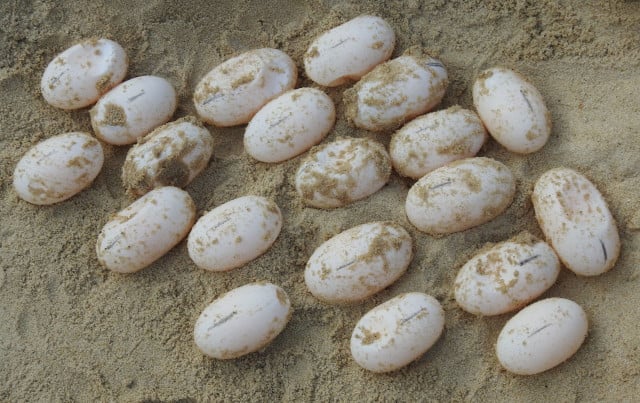 Xinhua
March 3, 2021 9:33 AM
PHNOM PENH-- Seventy-one rare Royal Turtle eggs in five clutches were laid on an artificial sandbank at the Koh Kong Reptile Conservation Center (KKRCC) in southwest Cambodia's Koh Kong province last week, a conservationist group said on Tuesday.

The Royal Turtle, also known as Southern River Terrapin, is one of the world's 25 most endangered freshwater turtles and tortoises, and it is listed on the International Union for Conservation of Nature (IUCN) Red List as Critically Endangered.

Images obtained from camera traps confirmed that the eggs were laid by five head-started Royal Turtles, the Wildlife Conservation Society (WCS) said in a press statement, adding that this is the first time that Royal Turtles have laid eggs in captivity in Cambodia.

"It's the first time that the captive female Royal Turtles have ever laid eggs since they were head-started at the center in 2006," said Som Sitha, WCS Koh Kong and Mekong Conservation Project manager. "The team will make artificial nests for incubation purposes or leave them as they are."

Steven G. Platt, associate conservation herpetologist for WCS in Southeast Asia, said this is an incredibly exciting and important event, given the extreme rarity of this species in the wild.

"Captive breeding is a conservation milestone for the recovery of the Royal Turtle in Cambodia," he said. "We anticipate soon being able to produce large numbers of Royal Turtles in captivity and releasing them back into the wild."

Ouk Vibol, director of the Department of Cambodia's Fisheries Conservation, said he was pleased to see this great result.

"We strongly encourage and support the continuation of these research activities for a better result in the future and we hope this species will survive for our next generation," he said.

The Royal Turtle has been designated as Cambodia's National Reptile by a Royal Decree issued in 2005.
Related Articles