A Cambodian Choreographer Shows in a Dance what Cambodian Women Face in the Country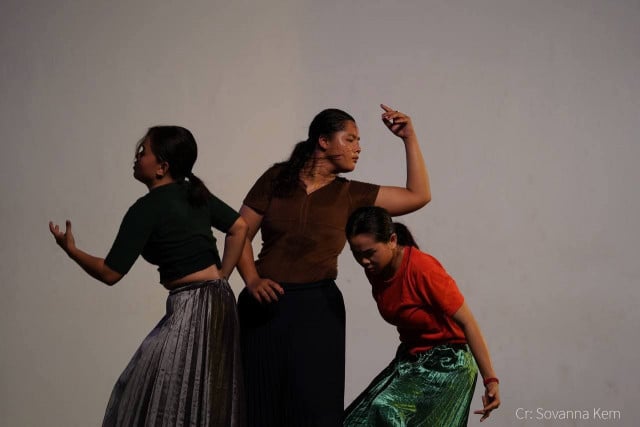 A Cambodian Choreographer Shows in a Dance what Cambodian Women Face in the Country
Premiered online on Oct. 2 and shown at several sites afterwards, it was made possible due to a Cambodian Living Arts program
PHNOM PENH--A contemporary dancer and choreographer has staged a performance presented online to showcase the challenges that women meet in Cambodia.
Soy Chanborey, who trained as a traditional Lakhaon Kaol dancer before turning to contemporary dance, is staging "Blood on Water," which he created, based on his memories of women dealing with hardships and unending tasks.
"I've worked with generations of Cambodian women dancers throughout the years, and we've exchanged stories like family," Chanborey said. "They come from many walks of life and confront a variety of challenges."
In the title of the dance, the word "blood" refers to human life, which is closely connected to women, he explained: The strength of blood can create emotions, and female energy gives form to a multiplicity of peak movements, as well as negativity and positivity in the human body.
Then the word "water," Chanborey said, is about the fast-evolving society in today's world as well as the gentle gesture of a woman or a feminine emotion.
Chanborey meant to bring these two elements together, creating a contemporary dance arisen from Khmer classical dance so that the dancers would perform 21th century movements but linked to the age-old tradition of Khmer classical dance. And this, while connecting with stories from life, he said, the goal being to create a dance for this new era.
Expressing women's reality through dance
"Some women who are battling for their lives succeed while others fail," said Chanborey. "They are still afraid when they think of society's oppression, and we wanted to express women's experience via dance and music in this piece. I'm glad to have completed this first stage, and I'm overjoyed to be able to share it with my dancers."
There is a violent scene in the dance, he said. This reflects some women's lives and is included in the dance along with other realities women face in the hope of helping them get in touch with how they feel about it as well as what they desire to feel, he explained.
"Some women fail to meet the standard created by society in terms of beauty, for example, whereas others do not have an opportunity to move as far as they want," Chanborey said. "Some women are married off at a very young age while others are forced to work in factories. Therefore, I decided to give back [to them] by performing this contemporary dance."
Chanborey, who is a teacher at the Royal University of Fine Arts (RUFA) in Phnom Penh, said that he spent roughly four weeks creating and rehearsing the dance, which is performed by Leav Chanlyka, Sinat Rotana and Dorn Sreynith.
Following the premiere—held online on Saturday, Oct. 2, at 6:30 pm, and posted on the Facebook pages of Soy Chanborey, Lakhaon Khaol Youth of Cambodia, and Silver Belle—the performance will remain at those Facebook pages.
The performance can also be seen via this link: https://www.facebook.com/events/1004081760411062/?ti=ls
A dance created and staged due to Cambodian Living Arts funding
This performance was made possible through the "Dam Dos Grant" program of Cambodian Living Arts (CLA). The Dam Dos Grant aims to assist artists who have dreams but lack financial support, Chanborey said.
Soth Chan Daly, a program coordinator at CLA, said the program was launched to help artists or people working in the culture and art sector who need funds for their projects.
"Dam Dos Grant supports creative arts, community art projects—including offering art classes in villages—research on art and culture, and project on music at risk of being lost," she said.
In some cases, this may enable some artists who have just launched their careers to further immerse themselves into their fields.
"We focus on artists who never receive that opportunity and those who have never experienced establishing their work," Daly said. "They may not know the process, so through the Dam Dos Grant, they can show their work for the first time, learn the process to launch their projects, and continue their work in the next stage of life."
Artists who dream of showcasing their works can apply for the program, she said. Currently, there are a total of 19 grantees—among whom eight women—who have already launched their projects or continue their careers in the arts.
The application period runs from Aug. 1 through Oct. 31 every year, and only four or five applicants can be selected due to the small scale of the program, Daly said.
"Artists must have specific goals and need to show us the value of their project," she said. "They have to tell us why they think their project is important for Cambodian society as a whole."
According to Soy Chanborey, the Dam Dos Grant is an important program for Cambodian artists who are in need of support so they can use their talent and show their work as well as encourage creativity and innovation for positive evolution in Cambodian society.
For the next project, Borey and his Lakhaon Kaol team will hold a major performance of Lakhaon Kaol to celebrate the 3rd anniversary of Lakhaon Kaol Wat Svay Andet being inscribed on the UNESCO list of Intangible Cultural Heritage in Need of Urgent Safeguarding, which took place on Nov. 28, 2018. He added that he has many more projects but they have been delayed due to the COVID-19 outbreak in Cambodia.
Related Articles