A Cambodian from the Province of Quebec Runs in the Election of his Adopted Country: Canada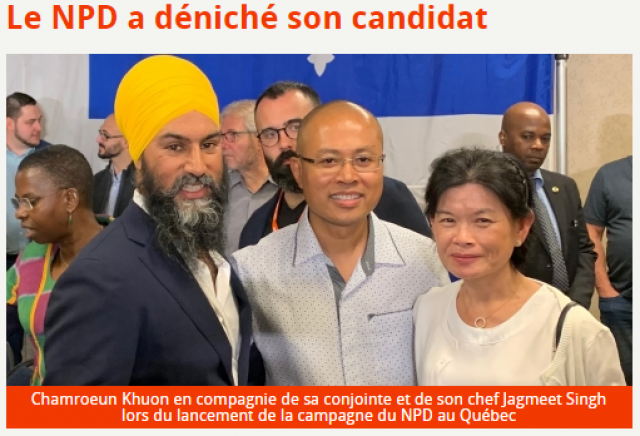 Ky Soklim
September 24, 2019 4:16 AM
Phnom Penh – Nearly 40 years after moving to Quebec City, will Khuon Chamroeun be elected member of parliament in Canada? The answer will be known next month in the outcome of the national election to be held on Oct. 21 and in which he is running as a National Democratic Party candidate.

A Canadian citizen since 1985, having left Cambodia at the end of the Khmer Rouge regime, and holding a doctorate in dental medicine obtained at Laval University in Quebec City in 2000, Khuon Chamroeun is ready to go into politics in order, he said, "to contribute to building a better and fairer world for all, and to preserve the planet for the future generations."
With no experience in politics and, by his own admission, a poor speaker, Khuon Chamroeun wholeheartedly believes he may get elected. "One does not need fine words to build a bright future for the next generations. What is needed is fire in one's belly," he said.
In an online interview with Ky Soklim, journalist with the online newspaper Thmeythmey.com in Cambodia, Khuon Chamroeun explained what prompted him to run for office in his country of adoption.
Ky Soklim: Among the 15 registered political parties taking part in the election, why have you picked Canada's National Democratic Party?
Khuon Chamroeun: The NPD's vision seems to be the closed to my own values: to create a better world through environmental-protection measures, better redistribution of wealth, an openness to cultural diversity. Among others, the issue that is the closest to my heart is to provide the whole population with free dental and eye care.
Ky Soklim: Being a dentist and a politician are two rather different fields, and then, political decisions may prove quite controversial. Couldn't this prove rather complicated for you?
Khuon Chamroeun: Actually, one could say that these are two diametrically opposed worlds. Dentistry is concrete and problems are quickly solved. In politics, problems are never quickly solved and nothing is ever completely black and white. But changing things, especially to make the world better, is never easy. One must come out of one's comfort zone if one wants to make the future more prosperous. This may be rather complex at times but one derives a great deal of pride afterwards.
Ky Soklim: Do you plan to give up dentistry once you are elected member of parliament for Quebec?
Khuon Chamroeun: It's quite premature to think this way as the game is far from over. This said, I'm not thinking of giving up my profession of dentist. I have promised to be a politician in my own way: Making time for my family and for the community is also part of my commitment to the community.
Ky Soklim: Do you have to spend money to run for office?
Khuon Chamroeun: Yes: Political campaigns are won with money. In order to make oneself known, one must definitely advertize and this is not free. But I rely on social media, newspapers, radio and maybe television to make myself known. I don't plan to do posters in order to reduce the environmental impact of my campaign: This is my immediate contribution to environmental protection.
Ky Soklim: Once elected, how do you plan to proceed in order to make Quebec City the twin city with Phnom Penh or Siem Reap?
Khuon Chamroeun: I don't dare imagine myself on the podium before starting my campaign. It's too early. It would be to count your chickens before they're hatched.
Ky Soklim: Do you intend to go into politics in Cambodia one day?
Khuon Chamroeun: I don't believe I want to be a politician in Cambodia but the idea of using politics as a mean to support or contribute to improving the fate of my compatriots really appeals to me.
Related Articles