A University Graduate in Agriculture launches Hydroponics Farming in His Hometown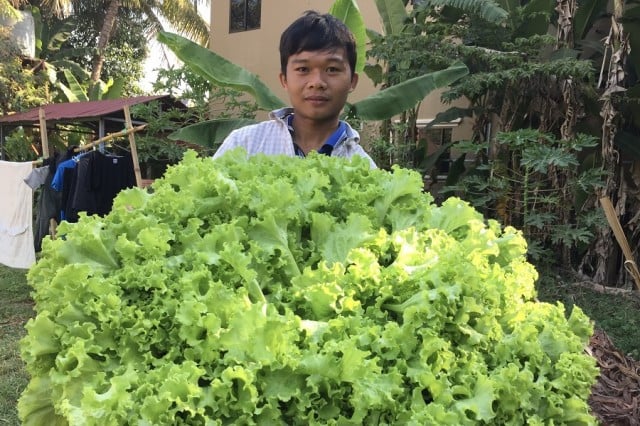 Van Ranut is now helping local farmers look into new techniques to grow produce
PHNOM PENH--In early 2020, Van Ranut, who had recently completed his bachelor's degree in agricultural product and marketing at Build Bright University, went home to his village in Siem Reap Province with the idea of putting to work some of the up-to-date techniques he had learned to help his family and local farmers.
At first, Ranut said, his family did not support his hydroponic-farm start-up, fearing he would fail and lose money. However, he clung to his decision and, with faith and a great deal of work to build his garden with local materials and at low cost in a small garden space, he succeeded.
Ranut is growing hydroponic crispy lettuce and many types of cabbage in Khlong Village, which is located in Angkor Chum District in Siem Reap Province, receiving increasing support from customers and neighbors.
"Agriculture is my passion," he said. "There are a lot of imported vegetables, and my [neighbors] don't like growing vegetables. Seeing them buy vegetables from markets and leave the ground bare in the dry season prompted me to take on agriculture."


The result Ranut has obtained has convinced his family to support his work by providing him with the capital he needed to expand his garden. As he explained, his relatives have realized that growing vegetables on water is easier and faster than growing vegetables in the soil although this requires an investment to start with.
Ranut's work has also earned him the admiration of people in the village, encouraging them to look into growing hydroponic vegetables, he said.
"Some farmers ask me to help them set up a hydroponic garden while others are looking into the cost of the garden and water systems," Ranut said. He is happy to help them and share his expertise such as the fact that weather affects the pace of growing even with a hydroponic garden, he added.
Ranut's own garden covers an area of 2.7 meters in which he grows cabbage and crispy lettuce. He has been selling both to wholesalers and retail customers and, despite the COVID-19 pandemic that has affected markets in the country, he now has regular customers.
"In the future, my goal is to grow vegetables both on water and in soil because I want to reduce the number of imported vegetables," Ranut said. "I also want local people to start growing vegetables because it will provide income and [steady revenue] safety for them."
Ranuth plans to expand his hydroponic farming and create an agriculture network to supply vegetables to many provinces. He also said that young Cambodians should consider the agriculture sector, which is a diverse economic sector that involves much more than rice farming and is essential for food production in the country, he said.
Additional reporting by Teng Yalirozy


Related Articles