African Leaders Prepare to Meet Putin after Zelensky Rules out Talks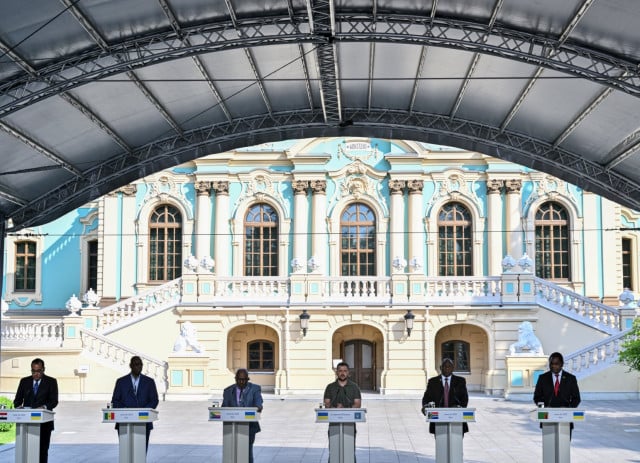 Kyiv, Ukraine -- A high-level African delegation was preparing to meet with Russian President Vladimir Putin on Saturday, a day after its calls for talks between Moscow and Kyiv were rebuffed by Ukrainian leader Volodymyr Zelensky.
The diplomatic team had gone to Kyiv on Friday to voice the concerns of a continent that has suffered from the fallout of Russia's invasion -- in particular rising grain prices -- with South African President Cyril Ramaphosa insisting "there should be peace through negotiations".
But Zelensky ruled out that possibility during a joint press conference with the delegates, telling reporters: "I clearly said several times at our meeting that to allow any negotiations with Russia now that the occupier is on our land is to freeze the war, to freeze pain and suffering".
Shortly after the African leaders' arrival, air raid sirens sounded across the country as Russian missiles were detected, forcing the delegates to take shelter in the capital.
Zelensky said the strike on Kyiv during the delegation's visit showed that Putin either did not control his army, or was "irrational".
Ramaphosa, however, took the barrage as evidence that both sides needed to stop fighting.
"It is precisely that type of event that we saw today... that makes us call for de-escalation," Ramaphosa said, quoting Nelson Mandela several times on the need for peace.
In a statement, Zelensky said he had called on the leaders to set out their views on how to stop the "crimes committed by Russia", and how to work towards food security.
"But first of all, we must restore the full force of the UN Charter and stop this brutal Russian aggression and free our land," he added.
The African delegation had gone first to Bucha, a town outside the capital that has become synonymous with alleged war crimes carried out by Moscow.
The group includes four presidents: Ramaphosa, Senegal's Macky Sall, Zambia's Hakainde Hichilema and Comoros' Azali Assoumani, who also currently heads the African Union.
The leaders of Uganda, Egypt and Congo-Brazzaville pulled out of the visit at the last moment and sent representatives instead.
The meeting came as Ukraine announced gains in a new counteroffensive, but Putin claimed on Friday that Kyiv's forces "stand no chance" in the sectors where fighting has intensified.
- 'Clear message' -
Following Friday's attack on Kyiv, the Ukrainian Air Force said it had shot down 12 missiles, including six hypersonic ones.
There was no reported damage inside the city, but seven people including two children were wounded, the regional police said.
"With what happened today, it's very obvious also to the African leaders how sincere Putin is about stopping the conflict," said Peter Stano, a spokesman for EU foreign policy chief Josep Borrell.
Ukrainian officials were also quick to call attention to the strike.
"Russian missiles are a message to Africa: Russia wants more war, not peace," Foreign Minister Dmytro Kuleba said.
The African leaders were set to meet Putin in the northwestern Russian city of Saint Petersburg on Saturday.
"In our view it is important to listen very carefully to what both countries have to say, and tomorrow we are now going to listen to President Putin," Ramaphosa said.
Speaking at an annual economic forum in Saint Petersburg on Friday, Putin displayed little appetite for peace talks, announcing the deployment of nuclear weapons in Belarus while also calling Zelensky a "disgrace to the Jewish people".
Russia first announced plans to station tactical nuclear arms in its ally and neighbour in March, with Putin saying Friday that the "first nuclear warheads were delivered to the territory of Belarus".
He said the weapons were meant as a deterrent to "those who are thinking of inflicting a strategic defeat on Russia".
Putin also told forum attendees he had "a lot of Jewish friends" who had told him "that Zelensky is not Jewish, that he is a disgrace to the Jewish people".
Despite Zelensky's Jewish heritage, Moscow has justified its war with claims it needs to "de-Nazify" Ukraine.
- 'Touching livelihoods' -
Analysts, meanwhile, said the delegation's mediating effort could hope to win some concessions from the Kremlin ahead of a Russia-Africa summit next month.
The African continent has been badly hit by rising grain and fertiliser prices as well as the wider impact on global trade since Russia invaded Ukraine last year.
"This conflict is also affecting African countries negatively, touching on the livelihoods of 1.2 or 1.3 billion people on the African continent," Ramaphosa said.
African nations have been divided over their response to the war, with some siding with Ukraine and others remaining neutral or gravitating towards Moscow.
South Africa, for one, has drawn scrutiny for refusing to condemn the offensive launched by Moscow.
© Agence France-Presse
Related Articles