Alarm Spreads After Swine Fever Discovery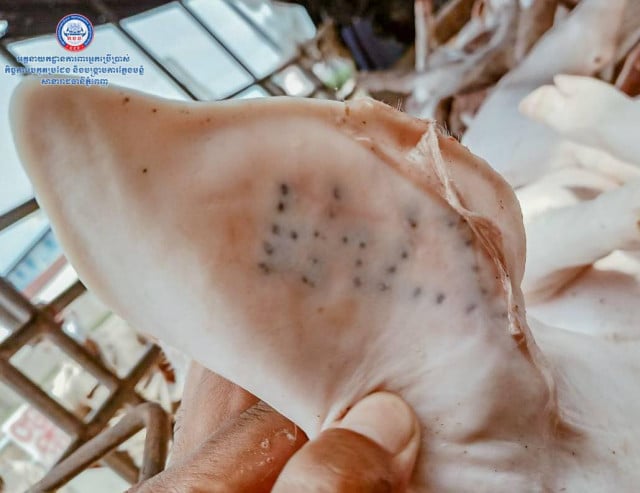 PHNOM PENH – Fears of local outbreaks of African swine fever have emerged after authorities found the virus in two tonnes of frozen meat from feral-variety pigs.
The Consumer Protection Competition and Fraud Repression Directorate-General (CCF) seized the 88 frozen pigs and offal on Feb. 17. It was local outbreak.
African swine fever cannot be passed to humans but alarm persists.
Sok Sitha, a housewife in Phsar Doeum Thkov commune in Phnom Penh, said she was worried about the spread of the disease as pork is a necessity for her family.
"I'll only cook well as it can also help prevent the effect," she said, adding that was hard to tell if the meat was contaminated with the virus.
Sambath Phos also expressed concern over her health after the outbreak was discovered. She, too, didn't know how to check the meat quality in the market.
Pig farmers are also concerned about the spread of the virus as pork prices decline.
Te Hong Lay, a pig farmer in Krakor district of Pursat province, said there was no case in his community but some pig farmers had suspended production because of the fall in prices.
A farmer who raises 300 pigs said his pigs sold for 7,800 riel per kilo but feed for pigs weighing 20-30kg costs 70,000 riel per bag. The price of live pigs had been falling steadily since the beginning of July 2022.
He faces losses over concerns about the spread of African swine fever to his pigs.
An Rithy, a pig farmer in Balang commune in Siem Reap province, says he faces losses as pork prices drop and news of the virus make his business vulnerable.
Pork consumer and farmers have called on authorities to restrict the import of pigs to boost domestic production and prevent the spread of the virus.
Phan Oun, director-general of the CCF, said the CCF had put in place mechanisms to control the quality of imported pork and frozen meat. He warned of legal action against illegal pig importers.
All officials must cooperate with veterinarians to monitor the traffic, import and storage of frozen pork to ensure that uncertified meat no longer appears on the market, he added.
Tan Phannara, director-general of the General Directorate of Animal Health and Production at the Ministry of Agriculture, Forestry and Fisheries, count not be reach for comment.
Related Articles