Angkor Antiquities in the Spotlight for a Year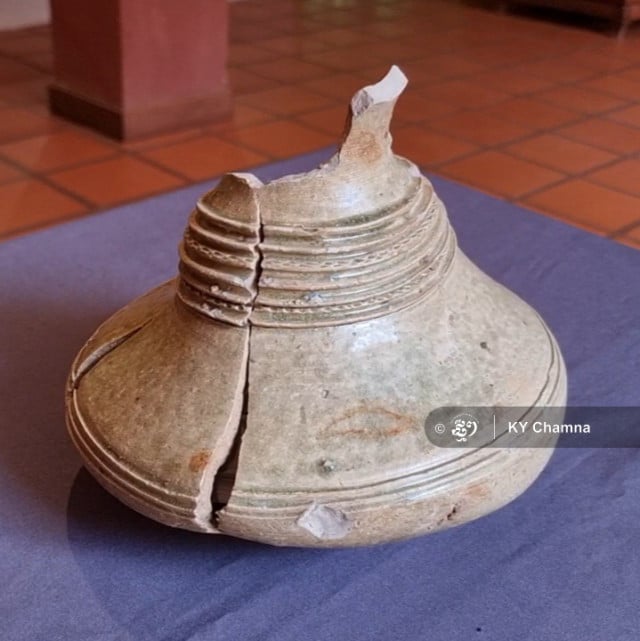 PHNOM PENH – To present the general public with new historical research and studies of the Khmer ancient artifacts, the Preah Norodom Sihanouk-Angkor Museum has set up a year-round exhibition showcasing a variety of centuries-old ceramics and artifacts that were acquired from locals residing in the Angkor archaeological site.
The exhibition started on July 1 and will be on display until June 30, 2024.
Preah Norodom Sihanouk-Angkor Museum's Acting Director Phouy Savoeut stated that a total of 16 different ancient ceramics were sourced from eight different villages in Siem Reap province.
To be processed, they were heated in kilns to temperatures ranging from 1,000 to 1,200 degrees Celsius, and a coat of glossy brown or green varnish ensured their protection through the ages.
In addition to the ceramics collection, the exhibition showcases other ancient artifacts that were used as relics for traditional burial at temples, including some from Aranh Riangsey pagoda, in Siem Reap province.
The exhibition will be on display for 12 months. Entry costs 1000 riel (about $0.25) for Khmer citizens and $3 for foreigners.
Preah Norodom Sihanouk-Angkor Museum officially opened in 2008 and is dedicated to displaying exhibits on the history of Cambodia's civilization through various cultural and archaeological artifacts.
It is located in Boeung Don Pa village, in Siem Reap city's Slor Kram commune. The museum opened only a few months after the launch of the Angkor national museum, located 3 kilometers south.
Written in Khmer for ThmeyThmey25, the story was translated by Luy Sirey Reaksa for Cambodianess.
Related Articles