Appeals Court to Hear Kem Sokha's Case on Additional Evidence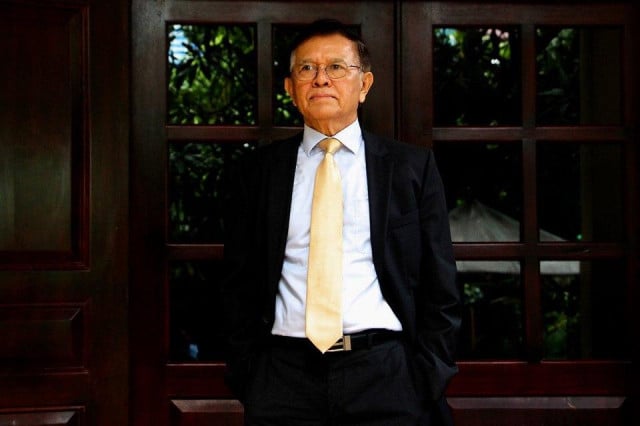 Phoung Vantha
May 12, 2020 10:04 AM
Following a complaint filed by the former opposition leader's lawyers, the Phnom Penh Appeals Court will hear their case on May 13.

PHNOM PENH--The Phnom Penh Appeals Court announced on May 12 that it will hear Kem Sokha's case on Wednesday afternoon following a complaint filed by the defense team.

The Appeals Court sent a letter to Chan Chen, one of Sokha's lawyers, saying that the court will hear the Sokha's case in relation to his ongoing trial for treason on May 13, 2020, at 2 p.m. in room number 2.

The group of lawyers sought to present their case to the Appeals Court after prosecutors presented new evidence against Sokha. Another Sokha's lawyers, Phan Chansak, stated that the judge should not have been able to accept the additional evidence as it was neither accurate or in accordance with Cambodia's criminal code procedure.

The additional evidence presented to the judge by the prosecution consists of a video, he said, but did not give further details.

Meng Sopheary, another of Sokha's lawyers, said that their appeal aims to have the judge dismiss the video in relation to Sokha's trial.

Following his arrest in September 2017, Sokha could face up to 30 years in prison if convicted. Immediately after his arrest, Sokha's former opposition party—the Cambodia National Rescue Party (CNRP)—was dissolved by the Supreme Court in November 2017.

He was denied bail and held in pre-trial detention until Sept. 10, 2018, when he was transferred to house arrest. Over a year later, on Nov. 10, 2019, Sokha was granted conditional release from house arrest, but his movements remained extremely restricted and was monitored constantly.

Finally, after more than two years since his arrest, Sokha's trial began on Jan. 15, 2020 where he stands accused of treason. Widely derided as a political manoeuver by international observers and even declared "tainted" by United Nations special rapporteurs, the trial has garnered international attention, but was put on hold over the Coronavirus Disease 2019 (COVID-19) pandemic.


Related Articles