Asian Populations Are Open to Banning Wildlife Food Products in View of COVID-19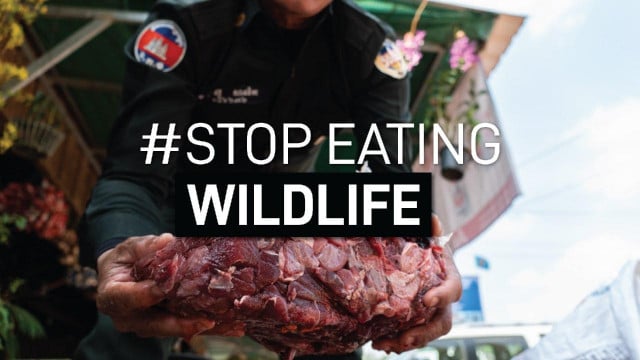 Phoung Vantha
April 10, 2020 9:07 AM
The death toll due to the Coronavirus Disease 2019 has led them to want this trade stopped

PHNOM PENH—The COVID-19 pandemic, which has brought countries to a standstill, has led people to call on governments to close Southeast Asia's wildlife markets.

A survey conducted by the World Wildlife Fund (WWF) last March—which involved 5,000 participants in Hong Kong SAR, Japan, Myanmar, Thailand, and Vietnam—found that 82 percent of the respondents are extremely or very worried about the outbreak, and that 93 percent of them are ready to support action by their governments to eliminate illegal and unregulated wildlife markets.

"Over 90 percent of respondents surveyed in Southeast Asia and Hong Kong support a government-led closure of illegal and unregulated wildlife markets," WWF-Cambodia explained in a release on the survey received Thursday (April 9).

In Cambodia, enforcement efforts by the Ministry of Environment and the Ministry of Agriculture, Forestry, and Fisheries have been "valiant," said Seng Teak, country director of WWF-Cambodia. The 2019 Mondulkiri Governor's Circular No. 5 has contributed to reducing the availability of wildlife products and wild meat at provincial markets and key tourist destinations, he said.

"In order to ensure that Cambodian people remain safe and healthy and that the next zoonotic outbreak doesn't start here, the trade in wild animals—especially mammals, birds and reptiles which are at high risk of transmitting diseases to humans—must be stopped," Teak said.

Asia Pacific Programs

"China has taken great steps prohibiting the hunting, trade, transport, and eating of wild animals, and Vietnam is working on similar directives," said Christy Williams, regional director for WWF.

"Other Asian governments must follow by closing their high-risk wildlife markets and ending this trade once and for all to save lives and help prevent a repeat of the social and economic disruption we are experiencing around the globe today," he said.

Protecting Humans as Well as Wildlife

The World Health Organization (WHO) has reported that the current COVID-19 pandemic along with at least 61 percent of all human pathogens are zoonotic in origin—that is, germs or infectious agents found in animals that can also infect humans. Wildlife trade increases the risk of spreading those zoonitic pathogens, WHO said.

On a global level, unsustainable wildlife trade is the second-largest direct threat to biodiversity, ranking right after wildlife habitat destruction. Populations of vertebrate species on earth have declined by about 60 percent since 1970. Moreover, a report of the Intergovernmental Science-Policy Platform on Biodiversity and Ecosystem Services released last year concluded that an average of 25 percent of global species are currently threatened with extinction. "[A]round 1 million animal and plant species are now threatened with extinction, many within decades, more than ever before in human history," the report states.


Related Articles