Australia Donates COVID Vaccines for Children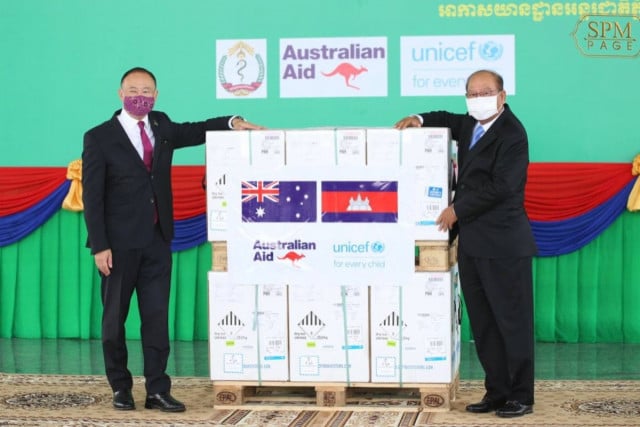 Envoy promises comprehensive healthcare response
PHNOM PENH – Cambodia has received nearly 200,000 doses of Pfizer COVID-19 vaccine for children aged 5-11 as a grant from Australia.
The handover ceremony to Health Minister Mam Bunheng took place on July 8 at the residence of Australian Ambassador Pablo Kang.
The donation was the second vaccine donation from the Australian Government. Cambodia received 2.35 million doses in December last year and 133 freezers in February plus other essential equipment.
Kang said Australia was committed to working with Cambodia in a comprehensive response to strengthen Cambodia's healthcare system.
"These vaccines will help protect the children from the ages of 5-11 from COVID-19, and the Australian government will further support Cambodia's efforts to prevent the spread of this epidemic," he said.
On Facebook posts, the Australian Embassy said the donation also celebrated about 70 years of diplomatic relations between Cambodia and Australia.
"Today's batch of 196,800 doses is the first component of a total donation of 482,400 vaccines coming this year," the post said.
Prime Minister Hun Sen shared his appreciation for Australia's second donation of thousands of vaccines.
"This aid is a part of Australian aid amounting to $35.7 million AUD (approximately $US24.3 million), which is the commitment of all steps towards a safe, effective and equitable vaccination campaign in Cambodia," he said on his Facebook page.
"The priority task in this fight is to continue to provide vaccines to the people."
According to the Prime Minister, Cambodia has used nearly 53 million doses for its vaccination campaign. About 20 million more doses –some in the form of grants and some purchased – have not yet been delivered.
Health Minister Mam Bunheng said Cambodia has had about 74 million doses, of which 53 million had been provided through the international COVAX facility and had been bought directly.
Bunheng said about eight million doses were available for free injection.
So far, more than 15 million people have had a first dose, over 14 million people have had a second dose, about 9.5 million have had a third, more than three million a fourth and more than 340,000 a fifth.
According to the Ministry of Health, Cambodia has vaccinated more than 94 percent of its 16 million population.
Nevertheless, Hun Sen added that although Cambodia has been successful in preventing the spread of the pandemic as well as in carrying out the vaccination campaign, the government still has to pay close attention to combating the spread.
As of July 7, there were 12 newly confirmed cases of Omicron, bringing the total number of COVID cases to 136,326. There had been no new recoveries or deaths.
Related Articles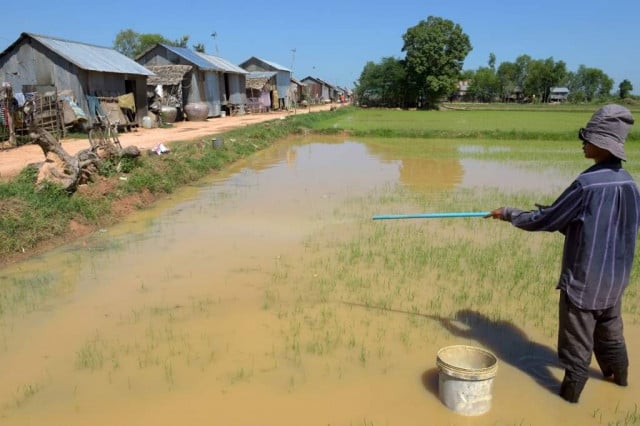 September 28, 2019 3:58 AM