Australian Foreign Minister Sought to Reassure Cambodia over AUKUS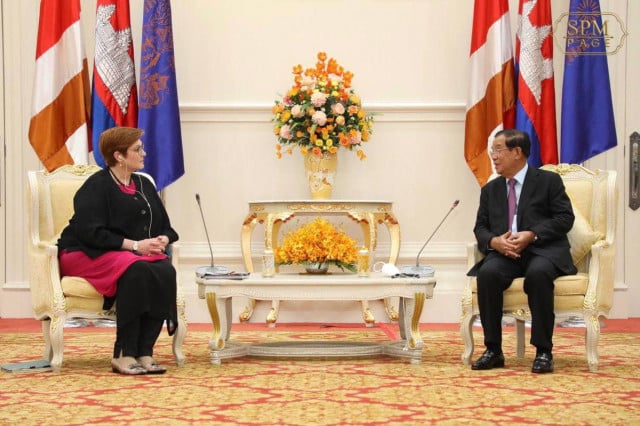 While it remains unclear exactly what was discussed or what Phnom Penh's response will be, Australian Foreign Minister Marise Payne's two-day visit appears to have been a reconciliatory one
PHNOM PENH--Australian Foreign Minister Marise Payne on her Nov. 7-8 visit to Cambodia reaffirmed that the new trilateral security alliance AUKUS is not aimed at establishing a civil nuclear capability, but to enhance its navy's strength.
During her two-day visit Payne met with Prime Minister Hun Sen and Foreign Affairs Minister Prak Sokhonn, where she briefed the two on the defense developments.
AUKUS, the Australian-British-US trilateral security partnership, caused a stir internationally as France felt duped by Australian Prime Minister Scott Morrison regarding a pre-existing deal for nuclear submarines, but across Southeast Asia, the AUKUS announcement was met with mixed reactions, typically determined by each ASEAN state's relationship with China.
"Australia's participation in AUKUS is aimed at acquiring nuclear-powered submarines in order to develop the capacity of its navy, and has no intention of establishing a civil nuclear capability; additionally, Australia remains committed to the non-proliferation of nuclear weapons in the region," Payne was reported to have said in her meetings.
Payne explained that AUKUS was set up for the common good with the aim of maintaining peace, prosperity, and security in the Indo-Pacific region, rather than attempting to set off an arms race in the region.
She went on to reaffirm Australia's commitment to its obligations under the Treaty of Amity and Cooperation (TAC), the South Pacific Nuclear-Weapons Free Zone (SPNWFZ), and the Southeast Asian Nuclear-Weapon-Free Zone Treaty (SEANWFZ).
This comes after Sokhonn on Oct. 8, voiced concern over AUSKUS in a telephone conversation with Payne, saying that the government hopes this will not trigger unnecessary and "unhealthy" competition and tension in the region.
Throughout the region, China has been the most vocal opponent of AUKUS, while Malaysia and Indonesia have both called for unity among ASEAN member states in addressing the new nuclear issue.
The Australian Embassy in Phnom Penh did not respond to the enquiries regarding Payne's visit and the importance of AUKUS and social issues in Cambodia.
Vaccine Diplomacy
But while Payne attempted to allay fears of AUKUS, she offered a carrot to the perceived nuclear stick in the form of 2.35 million doses of COVID-19 vaccines—1 million of which, she said, would arrive in Cambodia before the end of 2021.
Hun Sen recently made Australian news for complaining about delays to the delivery of 2.35 million COVID-19 vaccines that Australia pledged to Cambodia—Hun Sen's comments came just days after Cambodia received the first fridges needed to store vaccines manufactured by Pfizer and Moderna, having primarily relied on Chinese jabs for handling the pandemic.
Australia also offered to support Cambodia in ensuring success in its new role as the chairmanship of ASEAN for 2022.
"Marise Payne reassured Australia's full support all Cambodia's efforts and initiatives during her tenure as ASEAN Chair in 2022, including the ASEAN Women Leaders' Summit, scheduled to be held in Cambodia in 2022," the Foreign Ministry said in a statement.
"Australia has helped Cambodia, especially in the field of agriculture, by establishing the Cambodian Agricultural Research and Development Institute," Hun Sen said. "Australia also gave assistance in the military field and education, in which many language schools have been established while Australia has opened the door for Cambodian students to study in Australia. Australia has also helped in the health sector through vaccination assistance."
An additional A$232 million ($168 million) was earmarked for a four-year period in which Australia would support the Mekong Sub-region in post-COVID-19 recovery with a focus on economic and environmental resilience.
Rights Advocates Call for Greater Accountability
However, rights groups urged Payne to step up and challenge the Cambodian government on its human rights record, which last year earned Cambodia a reprimand in the form of trade preferences being partially revoked by the European Union.
Phil Robertson, deputy director of Human Rights Watch's Asia division, said Payne needed to focus on the number of political prisoners, activists and environmentalists—which Human Rights Watch estimated to stand at more than 90 at press time—that the Cambodian government had rounded up, as well as its well-documented attacks on what remains of the free press.
"Just ahead of Payne's visit, the government oversaw the outrageous, politically motivated prosecution and imprisonment of a 16-year-old autistic boy because he is the son of a detained opposition party activist," Robertson said, adding that this highlighted the depths Hun Sen's Cambodia could sink to.
He also raised the case of Kem Sokha, former Cambodia National Rescue Party (CNRP) leader whose party was outlawed in 2017 following its electoral success in previous years. Robertson also pointed to the jailed Mother Nature activists, who he said—against the backdrop of COP26—highlighted Hun Sen's approach to environmental conservation.
"With the commune and national elections in Cambodia just around the corner in 2022 and 2023, the Australian government, should press the Cambodian government for clear commitments to democratic freedoms, including respect for media freedom, an end to politically biased decisions on party registration, and reinstatement of the legal status of the dissolved CNRP," Robertson argued.
He also voiced concerns over Australia's involvement in creating a so-called independent human rights commission—one that Human Rights Watch and other rights advocates have warned would be as far from independent as the existing Cambodian Human Rights Committee, which is currently stacked with Hun Sen loyalists like Keo Remy and Chin Malin, who have both excused the government's human rights abuses, labelling the crackdown on dissidents as simply the rule of law.
It's unclear whether Payne addressed these issues before she left Cambodia, as the Australian Embassy in Phnom Penh did not respond to queries and neither official statements from Payne, the Cambodian Foreign Ministry or Hun Sen mentioned the issue of rights and democracy.
Related Articles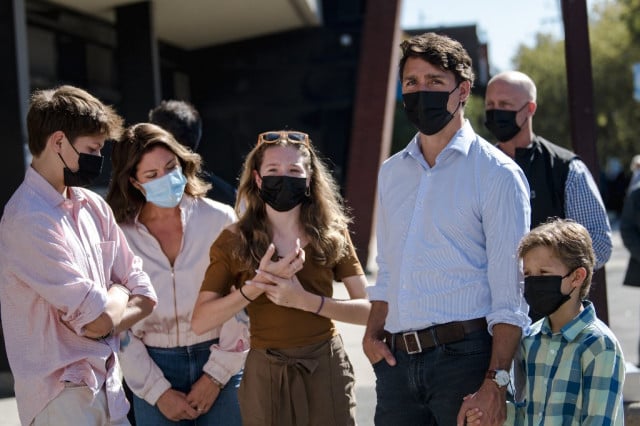 September 21, 2021 10:55 AM
November 25, 2020 10:02 AM