Buddhist Monks Get Involved in Bael Tree Planting in Angkor Park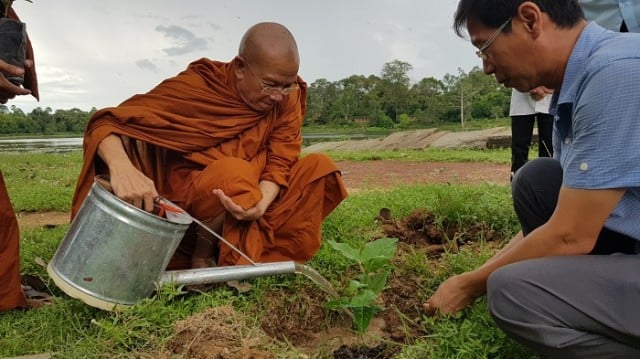 Isa Rohany
October 5, 2020 2:52 AM
This tree, which has both religious meaning and medicinal properties, will also embellish the park, they say
SIEM REAP-- Senior monks in Siem Reap Province have started mobilizing people to encourage them to plant fruit trees in the Angkor Archeological Park to beautify the area, have people in the park benefit from some of those special trees as well as ensure that these trees do not vanish from the region.
Late last month, eighty-four bael tree seedlings were planted for the first time in the Angkor Wat Park by around 60 monks and officials from the Apsara Authority—the government agency managing Angkor Park.
The project had been initiated by Preah Moha Vimal Dhamma Serey Sovanno Pin Sem of the Reach Bo Pagoda in Siem Reap City. During the planting, he said that the main reason to bring trees such as these bael tree in Angkor Park is to inspire conservation among Cambodians and to prompt them to replant these types of trees, which will also serve a purpose for tourism.
Moreover, these types of fruit trees, which have been facing extinction, can be beneficial for people, he said. For instance, bael fruits can be used to treat some diseases, he said.
"I want to promote the importance of this precious fruit, Pin Sem said. "It is medicinal... Moreover, its flower produces a beautiful scent in almost a month, which is good for tourists who visit Angkor."
According to records left by the country's ancestors, he continued, "the fruit has been used as traditional medicine to cure many diseases. It also has been seen as a medicine for preventing aging and for helping one's body to maintain good physical strength."
Pin Sem added that the seedlings planted in Angkor Wat park, which will bear a fruit that is easy to eat and delicious, were brought from Puok District in Siem Reap Province and from Banteay Meanchey and Battambang provinces.
In addition to its fruit's health benefits, Pin Sem went on to say that the bael tree also has a connection with the Hindu deity Shiva: Known as the plant of Shiva, Hindus will refer to it as Shivadruma. "Because of the three-lobed leaves, it looks like a spear, the Trishul [one of the symbols of Hinduism]," Pin Sem explained.
"[A]nd in another way, it also looks like the eyes of Shiva," he said. "During the royal ceremony of the ascension to the throne of [Khmer and Thai] kings, they always take the leaves for blessing."


Hang Peou, director general of the Apsara Authority, applauded the fruit-tree planting initiative in Angkor Park.
The Apsara Authority, which has been involved in replanting trees in Angkor Park since 2004, also has plans to have bael trees planted in the northern part of Angkor Thom in order to preserve this tree for future generations, he said.
"Our Angkor [park] is a World Heritage site and…there are temples, nature and people…together," Peou said. "Natural resources refer to all. Especially in the Angkor area, there are up to 183 tree species classified in 63 families of trees.
"Our main aim [is]to ensure that our place remains a place rich in natural resources," he added.
The Forestry Administration announced in 2018 that Cambodia had set the goal of planting more than 25,000 hectares of trees each year, and this, in the areas that have been deforested so that they can be economic land concessions or public space again.
Moreover, during the National Arbor Day celebrations in Kratie Province's Sambor District in July 2019, King Norodom Sihamoni encouraged people to plant trees.
Through these initiatives, tree planting has gained momentum among the general public and especially among monks with a series of tree-planting activities that have been introduced.
According to the Apsara Authority, nearly 20,000 trees including luxury and decorative trees have been planted in the Angkor Archeological Park between January and July 25 in 2019, with an increasing number of people, old and young, as well as Buddhist monks taking part in the planting events.
Related Articles