Schools Reopen with a Long List of Procedures in Place to Prevent Spread of COVID-19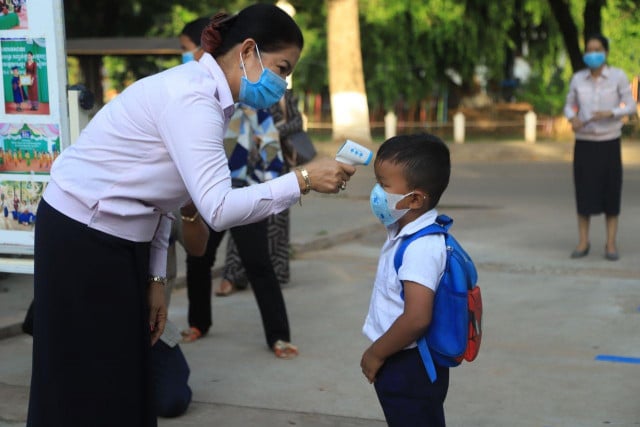 Phoung Vantha
September 7, 2020 6:24 AM
And they return to normal schedule only in four provinces
PHNOM PENH—Students of kindergartens, primary and secondary public schools on Monday (Sept 7) returned to their classrooms after six months of absence due to the Coronavirus Disease 2019 (COVID-19).
But it was not, nor will it be for some time, "school as usual" as Education Minister Hang Chuon Naron made clear when he urged all schools to ensure the safety and security of students during the pandemic.
"Please managements and teachers, continue to teach students to continue to practice hygiene to ensure safety for students and take part in the fight against the infectious COVID -19 disease," he said Monday in a statement posted on the ministry's Facebook page.
All students must have their temperature checked when they arrive on school grounds, wear a mask and frequently wash their hands, the minister stressed.


A student wearing mask goes through a disinfection process while two others wait their turn. Photo: Pann Bony.

Schools are required to spray disinfectant in classrooms, libraries, bathrooms, cafeterias and across campuses; to put chairs two meters apart; and only allow 15 to 20 students in a classroom at any given time.
The Cambodian government had announced on Aug. 26 its intention to reopen schools on Sept. 7. However, in this first phase of reopening, schools are operating on a regular schedule only in four provinces: Kratie, Mondulkiri, Ratanakiri and Stung Treng provinces. In the rest of the country, classes will be held on a regular schedule in secondary school and only a few days a week in kindergarten and primary school.
For the second phase of reopening to take place, all schools must implement the hygiene measures and follow instructions outlined in the Standard Operating Procedures document prepared by the Ministry of Health to prevent COVID-19 outbreaks, the ministry said in its Facebook message
Related Articles