Cambodia Celebrates Ties as US Marks Independence Day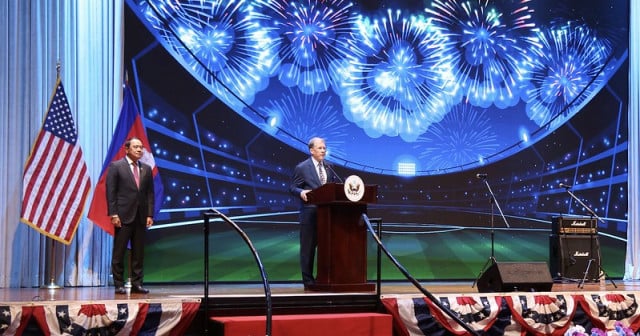 PHNOM PENH – Cambodia and the US have pledged to boost relations despite clashes on some issues. Both sides reaffirmed their friendship as the US celebrated its 247th Independence Day.
The US Embassy in Phnom Penh marked the date on June 29, welcoming more than 600 participants, including officials, diplomats and partners.
A number of Cambodian ministers attended the event, with Ly Thuch, the first vice president of the Cambodian Mine Action and Victim Assistance Authority, being a guest of honor.
Ly Thuch acknowledged that the US had played an important role in Cambodia's social development since the establishment of full diplomatic relations in 1993. Both countries enjoyed good cooperation and partnership.
"Despite some differences on some issues, I anticipate that they will not stand in our way to deepen our bilateral relationship in various fields based on mutual understanding and respect," he said.
US Ambassador W. Patrick Murphy said the US supported Cambodia by being with the country, offering many programs and people-to-people ties.
Cambodia and the US shared visions such as the right to freedom of expression, association, and assembly enshrined in both their constitutions.
"I am always the first to admit that our union is not perfect," said Murphy. "The American experiment remains a work in progress, but our instrument of democracy, free speech, free press, the rule of law and a constitution that is the most enduring and shortest in the world strive to uphold the self-evident truth that all people are created equal and endowed with unalienable rights."
He said the US supported the aspiration of the Cambodian people to maximize access to these rights and how the government is fully accountable to them and to develop a prosperous democratic society.
"Our Declaration of Independence in 1776 established a new nation with a government accountable to its citizens," the ambassador said.
He said both countries had a long-time friendship, with the partnership advancing many mutual interests in areas such as education, health, agriculture, the environment, cultural preservation, food security, law enforcement, child protection, trafficking in person and demining.
Ly Thuch said the US government had allocated approximately $190 million since 1993 for mine clearance which was significant for Cambodia towards achieving its goal of mine-free status in 2025. It hoped to keep working with the US.
US remains Cambodia's biggest export market
About 300,000 Cambodian-Americans are reestablishing ties for business and tourism and understanding between the two countries and respecting the sovereignty of Cambodia, Murphy said.
Since 1991, the US had contributed over $3 billion to support Cambodia's economic, political, and social development.
"The US is Cambodia's largest export market and bigger than the next five markets combined," he said.
Ly Thuch said that despite the COVID-19 pandemic, trade between the countries continued to expand, reaching more than $12 billion in 2022.
Murphy said he was proud of the aid provided for Cambodia to combat the pandemic, leading to a fast recovery and retur to normal in the country.
According to Ly Thuch, the US government helped with more than three million doses of COVID-19 vaccine.
"Please also note that our cooperation in the field of culture is growing," Thuch said. "The US has assisted with the cultural preservation and cooperation to return looted artifacts to Cambodia."
Murphy said President Joe Biden recounted to him his appreciation of how far Cambodia and the United States had come over the course of this long public career, and now the US has such a warm friendship with the Cambodian people.
Cambodian American professional soccer player Nick Taylor, who has come to Cambodia for about six months, said he had enjoyed immersing himself in the Khmer culture and learning his Khmer root.


Cambodian-American soccer player Nick Taylor at the 247th US Independence Day celebration. Photo: Teng Yalirozy

The 247th birthday celebration of the US in Phnom Penh had made him feel at home again, he said, hoping to stay in the country longer to really embrace his Cambodian blood.
"I was about to land at Phnom Penh Airport. There was a little bit of cloud in the sky and lighting shocked our plane," Taylor said.
"It was such a profound moment for me because it felt like I was coming into a new world, almost. When touching down, going to the street, and seeing all the people for the first time, I felt so much at home and warm.
"I felt this kind of love right away although I did not meet anyone yet. I felt already welcome."
The theme of the U.S. Embassy's Fourth of July celebration is "For the Love of the Game." This theme is chosen to pay tribute to the cultural importance of sports in the United States and Cambodia in promoting understanding, respect, and friendship.
Related Articles