Cambodia-China Cross-Border QR Payments on the Way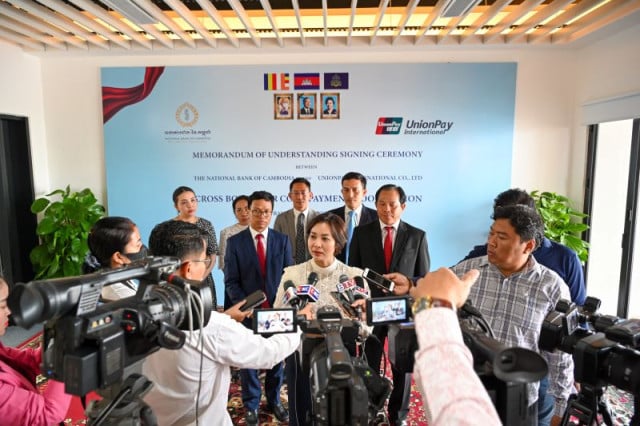 PHNOM PENH – Cambodian and Chinese citizens will be able to make payments in Khmer Riel and Renminbi (RMB) currencies in the two countries via QR Code, said the National Bank of Cambodia (NBC).
NBC and UnionPay International signed a Memorandum of Understanding (MoU) on "Cross-Border QR Code Payment Cooperation" on July 10, aiming at promoting the use of both the Khmer Riel and the RMB in the two countries.
NBC's Deputy Governor Chea Serey said this cooperation will help citizens who use the Bakong system and have a bank account in Khmer Riel to scan the QR Code in China to pay for goods and services conveniently.
"When this cooperation is fully in place, we'll see that our citizens in China can pay via QR Code," she said. "Cambodian citizens can also use the QR of Union Pay, Ali Pay and We Chat. So, about 10 million Cambodian people who have an E-Wallet will easily be able to make any payment in China through this system."
Chinese citizens who visit Cambodia will also be able to pay for any services or goods through KH QR, Serey said, stressing that this is a positive point for the future in expanding the use of both currencies.
This cooperation with UnionPay will facilitate payments of customers while visiting China and Cambodia, at a favorable exchange rate, she added.
The main point of this cooperation is to ease cross-border payments and to promote the use of the Khmer Riel in Cambodia's nearby countries.
Cambodia has already launched QR-Code cross-border payments with Thailand and Vietnam, while NBC has been working on developing payment systems with China, India, and Laos.
China-Cambodia QR-Code cross-border payments are expected to be operational by the end of 2023 or early 2024, Serey said.
"Cambodian people staying overseas must have a Khmer Riel account to do transactions via KHQR Code in China or Thailand," she said. "Cambodian businessmen or women must have KH QR Code for visitors from China. So, China is promoting the use of RMB while Cambodia is also promoting the use of the Khmer Riel."
Serey anticipates that the success of this cooperation will contribute to accelerating the tourism sector in Cambodia as Chinese visitors will have an easy time making payments in the country.
Originally written in Khmer for Thmey Thmey, this story was translated by Teng Yalirozy for Cambodianess
Related Articles